Car dealers rely on market data to make money. As such it is imperative that the tools they use show correct and accurate information. It can be hard to make the switch to a newer, better or cheaper tool; how can you be sure that you can trust the data that they provide? After all, one bad buy could ruin your turn and cost you thousands.
MMR On Autoniq VIN Scanner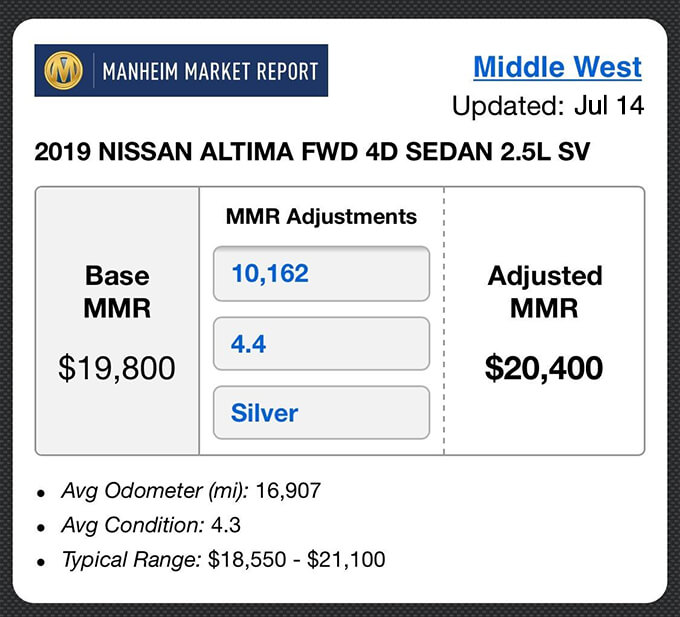 Let's take a look at this Nissan Altima value on MMR, as featured in Autoniq:
In the Middle West region Autoniq shows an MMR wholesale value of $20,400 for 10K miles.
We can see that the average mileage for these is 16,094 and that their average condition is 4.3.
It's also important to note that MMR on Autoniq does not offer any retail values for our Altima.
MMR on Carbly VIN Scanner
Let's take a look at the same Nissan Altima as shown in Carbly:
Carbly automically matches region to your zip so we are in the Midwest again and have the same 10K miles.
You will notice that for the same average condition Carbly also has $20,400 for the MMR wholesale value.
You will also see that Carbly shows the same 16,094 average miles.
Carbly takes it further though and has more data than Autoniq:

Usefully it also provides retail figures and the spread between wholesale and retail.
It also has a trend graph showing both wholesale and retail. This trend data provides valuable context to the MMR values that you see.
So, as you can see Carbly takes the data that you already trust and rely on and builds on it, adding valuable context with trend data and retail figues.
Not only does Carbly take the data one step further but it's also paired with a VIN scanner that can read VIN text as well we barcodes. Take a look at the video below to see how much time you could save if you didn't ever have to manually type VINs again.
Carbly VIN scanner offers the most competitive pricing in the market:
Manheim Market Report on Carbly is $55 per month. This price also includes free integration of your vehicle history account. (Tip: to maximize value on a budget, add Live Local Market for only $29 more.)
If you have questions please reach out. Our customer service team are happy to help.