Using Manheim Market Report With Carbly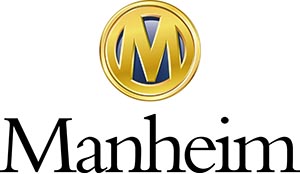 Manheim Market Report (MMR) is the premier indicator of wholesale prices with data from millions of transactions from the previous 13 months. With its finger on the pulse of wholesale auction values it is one of the most widely referenced data sources for dealers buying in the lanes and assessing trade-ins on the lot. In addition, it includes retail values as well as price history and projections.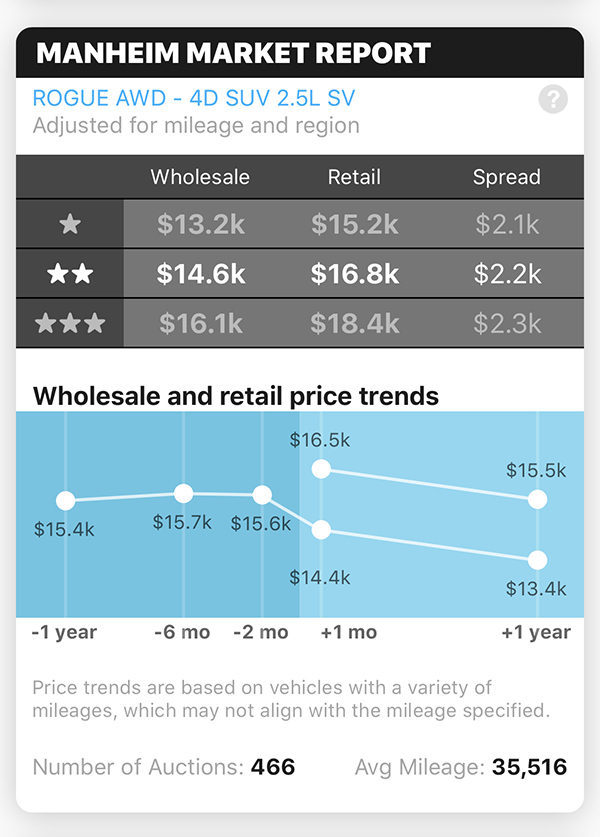 All the MMR data that you are rely on and trust is presented on the card in an user-friendly format.
The model and trim are displayed at the top in blue. Clicking on this text will let you change the trim on the card. Beneath that, wholesale and retail values, as well as the spread between the two are displayed in ascending condition order. The condition that you selected when entering the VIN will be highlighted.
The blue graph shows wholesale and retail price trends. Wholesale shows both historical (1 year) and projected future (1 year) trends. Retail shows the value as of today and projects out one year into the future too.
At the bottom of the card you can see how many auctions your data was collected from, as well as the average miles on this specific vehicle.
Manheim Market Report On Carbly is $55 per month. This price also includes free integration of your vehicle history account. (Tip: to maximize value on a budget, add Live Local Market for only $29 more.)
Pair the Manheim Market Report data you trust and rely on with the user friendly Carbly VIN scanner. Start your 14 day free trial today.