Baltimore Region Used Car Market Report
October 2022
Used car sales trends for Baltimore and surrounding communities
October market trends based on used inventory from 276 dealers in the Baltimore region.
52.2 days

35.4 days

Average vehicles sold per dealer
Down 6.8%
Average national wholesale values by month
Wholesale values continued to decline in October. Average wholesale values are down 5% from September and down 10% from the yearly high in June.
Retail Used Inventory Levels

Highest Demand Vehicles in Baltimore for October
Based on number of vehicles sold and average days on lot
| | | |
| --- | --- | --- |
| 1 | HONDA ACCORD | Score: 111 |
| 2 | HONDA CIVIC | Score: 111 |
| 3 | TOYOTA CAMRY | Score: 107 |
| 4 | TOYOTA COROLLA | Score: 104 |
| 5 | HONDA CR-V | Score: 101 |
| 6 | TOYOTA HIGHLANDER | Score: 99 |
| 7 | TOYOTA RAV4 | Score: 98 |
| 8 | HYUNDAI ELANTRA | Score: 96 |
| 9 | FORD FUSION | Score: 94 |
| 10 | VOLKSWAGEN JETTA | Score: 94 |
| 11 | FORD F-150 | Score: 93 |
| 12 | MAZDA CX-5 | Score: 93 |
| 13 | TOYOTA TACOMA | Score: 91 |
| 14 | NISSAN ALTIMA | Score: 91 |
| 15 | NISSAN ROGUE | Score: 91 |
| 16 | HYUNDAI SONATA | Score: 90 |
| 17 | FORD EXPLORER | Score: 90 |
| 18 | JEEP COMPASS | Score: 89 |
| 19 | FORD ESCAPE | Score: 89 |
| 20 | CHEVROLET SILVERADO | Score: 88 |
| 21 | NISSAN SENTRA | Score: 88 |
| 22 | JEEP GRAND CHEROKEE | Score: 88 |
| 23 | HONDA PILOT | Score: 88 |
| 24 | CHEVROLET EQUINOX | Score: 86 |
| 25 | CHEVROLET MALIBU | Score: 84 |
Lowest Days on Lot Vehicles
Based on average days on lot for October
| | | |
| --- | --- | --- |
| 1 | HONDA CIVIC | 19.9 days |
| 2 | TOYOTA COROLLA | 20.5 days |
| 3 | TOYOTA CAMRY | 20.8 days |
| 4 | HONDA ACCORD | 20.8 days |
| 5 | FORD FUSION | 21.7 days |
| 6 | VOLKSWAGEN JETTA | 22.1 days |
| 7 | TOYOTA HIGHLANDER | 22.3 days |
| 8 | TOYOTA TACOMA | 23.8 days |
| 9 | MAZDA CX-5 | 23.9 days |
| 10 | HYUNDAI ELANTRA | 24.1 days |
| 11 | HONDA CR-V | 24.3 days |
| 12 | HYUNDAI SONATA | 24.4 days |
| 13 | JEEP COMPASS | 25.6 days |
| 14 | FORD ESCAPE | 25.9 days |
| 15 | TOYOTA RAV4 | 26.7 days |
| 16 | HONDA PILOT | 27.1 days |
| 17 | NISSAN SENTRA | 27.9 days |
| 18 | FORD EXPLORER | 28.4 days |
| 19 | CHEVROLET MALIBU | 28.6 days |
| 20 | NISSAN ROGUE | 29.3 days |
| 21 | CHEVROLET SILVERADO | 30.2 days |
| 22 | NISSAN ALTIMA | 30.5 days |
| 23 | FORD F-150 | 30.7 days |
| 24 | SUBARU OUTBACK | 31.3 days |
| 25 | JEEP WRANGLER UNLIMITED | 31.8 days |
Days on Lot Trend in the Baltimore Region
October Used Inventory by Year and Mileage
All vehicles for sale in Baltimore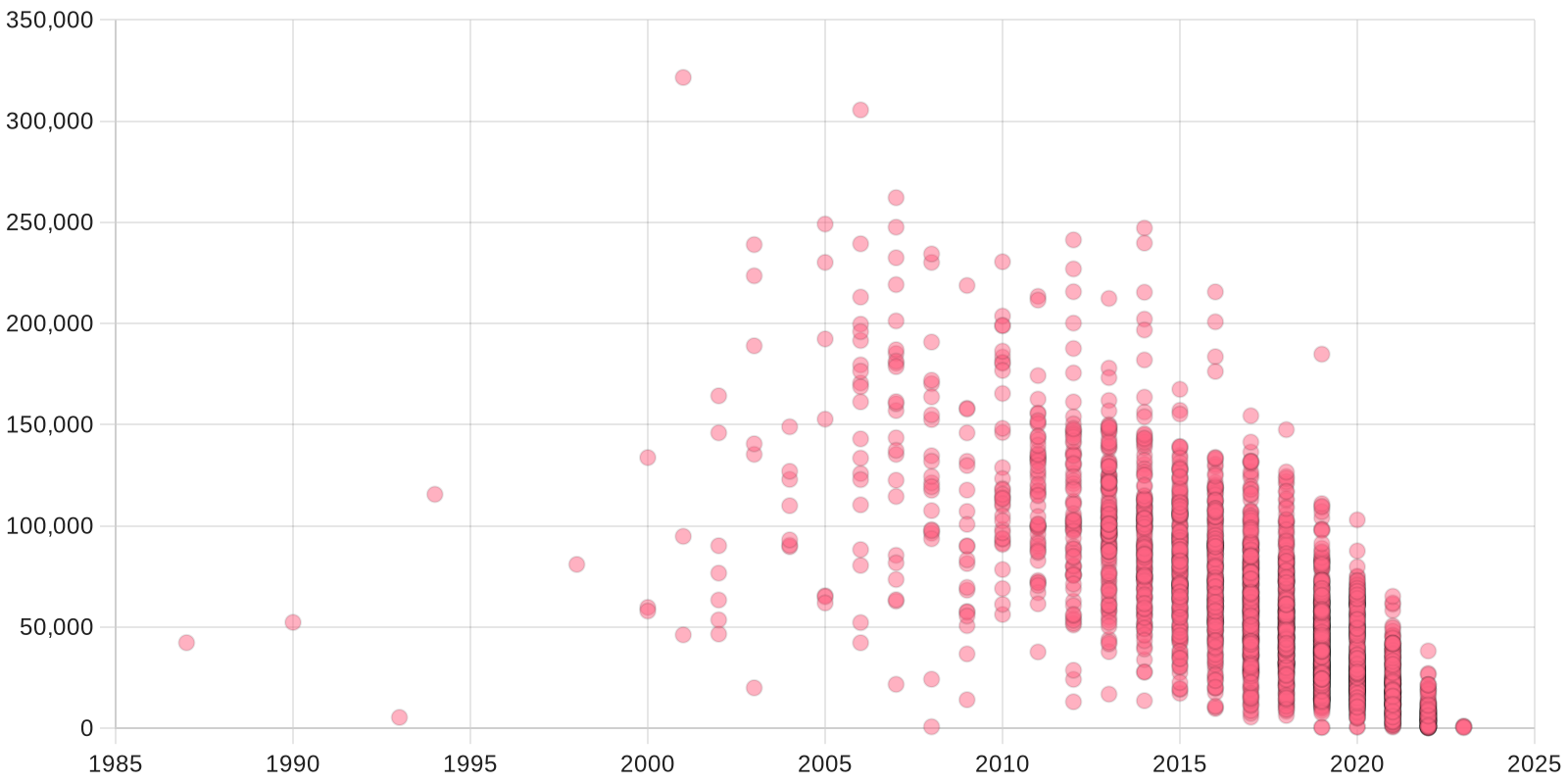 Most Active Dealers
Based on number of vehicles sold
| | |
| --- | --- |
| 1 | CarMax - Laurel |
| 2 | CarMax - White Marsh |
| 3 | Heritage | MileOne Autogroup |
| 4 | Jones Used Cars |
| 5 | CarMax - Ellicott City |
| 6 | MileOne Autogroup |
| 7 | Koons White Marsh Chevrolet |
| 8 | Koons Ford Of Baltimore |
| 9 | Koons Annapolis Toyota |
| 10 | Len Stoler Lexus |
| 11 | Antwerpen Nissan Security |
| 12 | Koons Kia of Owings Mills |
| 13 | Koons Clarksville Chevrolet Buick GMC |
| 14 | Lexus of Towson |
| 15 | J.B.A. CHEVROLET |
| 16 | Sheehy Nissan Glen Burnie |
| 17 | Koons Mercedes-Benz of Catonsville |
| 18 | Car Corporation of Millersville |
| 19 | Heritage Honda |
| 20 | Sheehy Lexus of Annapolis |
| 21 | Tate Dodge Chrysler Jeep, Inc. |
| 22 | Bob Bell Hyundai |
| 23 | Koons Volvo Cars White Marsh |
| 24 | MINI of Annapolis |
| 25 | Apple Lincoln |
Most Active Independent Dealers
Based on number of vehicles sold by independent auto dealers
| | |
| --- | --- |
| 1 | Heritage | MileOne Autogroup |
| 2 | Jones Used Cars |
| 3 | MileOne Autogroup |
| 4 | Car Corporation of Millersville |
| 5 | Jones Junction |
| 6 | East Coast Automotive Inc. |
| 7 | Auto Showcase of Bel Air |
| 8 | All Roads |
| 9 | Arm Motors |
| 10 | Priceless |
| 11 | Dawsons Auto & Cycle |
| 12 | Sports and Imports |
| 13 | AutoDot |
| 14 | High Rated Auto Company |
| 15 | A G Auto Sales |
| 16 | Bill Kidd's |
| 17 | Sir Michaels Auto Sales - Rosedale |
| 18 | XotiCars |
| 19 | AUTO POINT USED CARS |
| 20 | M&M Auto Baltimore |
Internet Search Trends
Interesting internet search trends from people in Baltimore
| | |
| --- | --- |
| Ford Mustang | Up 53% |
| Toyota Truck | Up 30% |
| Hyundai Genesis | Up 23% |
| Kia Soul | Down 34% |
| Honda HR V | Down 34% |