Bay Area Region Used Car Market Report
October 2022
Used car sales trends for Bay Area and surrounding communities
October market trends based on used inventory from 230 dealers in the Bay Area region.
44.4 days

35.4 days

Average vehicles sold per dealer
Down 5.9%
Average national wholesale values by month
Wholesale values continued to decline in October. Average wholesale values are down 5% from September and down 10% from the yearly high in June.
Retail Used Inventory Levels
Highest Demand Vehicles in Bay Area for October
Based on number of vehicles sold and average days on lot
| | | |
| --- | --- | --- |
| 1 | HONDA CIVIC | Score: 116 |
| 2 | TOYOTA CAMRY | Score: 109 |
| 3 | TOYOTA COROLLA | Score: 108 |
| 4 | HONDA ACCORD | Score: 104 |
| 5 | TOYOTA RAV4 | Score: 100 |
| 6 | HONDA CR-V | Score: 93 |
Lowest Days on Lot Vehicles
Based on average days on lot for October
| | | |
| --- | --- | --- |
| 1 | HONDA CIVIC | 20.9 days |
| 2 | TOYOTA COROLLA | 20.9 days |
| 3 | TOYOTA CAMRY | 24.2 days |
| 4 | HONDA ACCORD | 24.7 days |
| 5 | TOYOTA RAV4 | 26.1 days |
| 6 | HONDA CR-V | 30.7 days |
Days on Lot Trend in the Bay Area Region
October Used Inventory by Year and Mileage
All vehicles for sale in Bay Area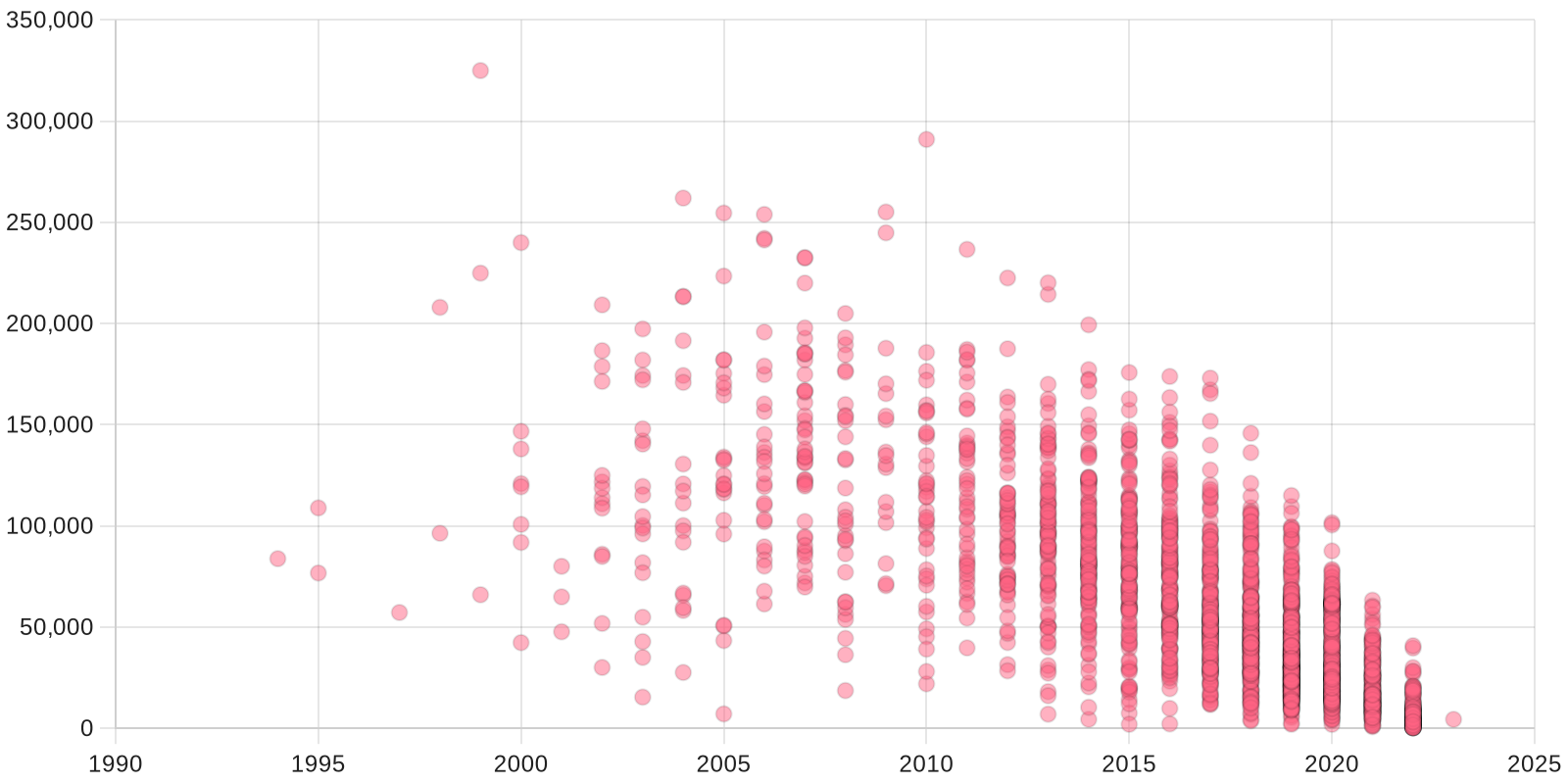 Most Active Dealers
Based on number of vehicles sold
| | |
| --- | --- |
| 1 | CarMax - Serramonte |
| 2 | CarMax - Pleasant Hill |
| 3 | Mercedes-Benz of Marin |
| 4 | Golden State Nissan |
| 5 | One Toyota of Oakland |
| 6 | MINI of Marin |
| 7 | Mercedes-Benz of Walnut Creek |
| 8 | BMW of San Francisco |
| 9 | Honda of Serramonte |
| 10 | AutoNation Toyota Hayward |
| 11 | Hayward Mitsubishi |
| 12 | San Francisco Toyota Sales at Geary |
| 13 | Serramonte Ford |
| 14 | Concord Toyota |
| 15 | Lexus of Marin |
| 16 | Autobahn Motors |
| 17 | BMW of San Rafael |
| 18 | Concord Mazda |
| 19 | Lexus of Serramonte |
| 20 | Volkswagen of Oakland |
| 21 | Diablo Subaru of Walnut Creek |
| 22 | AutoDeals |
| 23 | Victory Honda of San Bruno |
| 24 | Volkswagen Marin |
| 25 | Stewart Chevrolet |
Most Active Independent Dealers
Based on number of vehicles sold by independent auto dealers
| | |
| --- | --- |
| 1 | AutoDeals |
| 2 | All Stars Motors Inc |
| 3 | AutoDeals |
| 4 | City Motors |
| 5 | MISSION AUTOS |
| 6 | Green Light Auto Wholesale |
| 7 | North State Auto |
| 8 | Premier Motors |
| 9 | Fast Trax Auto |
| 10 | Car Studio |
| 11 | Platinum Motors |
| 12 | Matty's Cars |
| 13 | EZ Auto Sales Inc |
| 14 | Mag Motor Company |
| 15 | Elite Motor Cars |
| 16 | Car Co |
| 17 | JENIN MOTORS |
| 18 | CARFORNIA SOLUTIONS |
| 19 | Green Life Motors |
| 20 | Star One Motors |
Internet Search Trends
Interesting internet search trends from people in Bay Area
| | |
| --- | --- |
| Used Honda Odyssey | Up 50% |
| Used Chevy Tahoe | Up 27% |
| Ford Mustang | Up 46% |
| Used Dodge Challenger | Down 48% |
| Used Jeep Grand Cherokee | Down 35% |