Boston Region Used Car Market Report
October 2022
Used car sales trends for Boston and surrounding communities
October market trends based on used inventory from 558 dealers in the Boston region.
48.9 days

35.4 days

Average vehicles sold per dealer
Down 5.7%
Average national wholesale values by month
Wholesale values continued to decline in October. Average wholesale values are down 5% from September and down 10% from the yearly high in June.
Retail Used Inventory Levels
Highest Demand Vehicles in Boston for October
Based on number of vehicles sold and average days on lot
| | | |
| --- | --- | --- |
| 1 | HONDA CR-V | Score: 107 |
| 2 | TOYOTA RAV4 | Score: 100 |
| 3 | TOYOTA COROLLA | Score: 97 |
| 4 | HONDA CIVIC | Score: 95 |
| 5 | HONDA HR-V | Score: 95 |
| 6 | TOYOTA CAMRY | Score: 93 |
| 7 | HONDA ACCORD | Score: 89 |
| 8 | NISSAN ALTIMA | Score: 87 |
| 9 | SUBARU IMPREZA | Score: 87 |
| 10 | JEEP GRAND CHEROKEE | Score: 86 |
| 11 | SUBARU FORESTER | Score: 84 |
| 12 | NISSAN SENTRA | Score: 84 |
| 13 | MAZDA CX-5 | Score: 84 |
| 14 | LEXUS RX 350 | Score: 84 |
| 15 | AUDI Q5 | Score: 83 |
| 16 | HONDA PILOT | Score: 83 |
| 17 | FORD F-150 | Score: 83 |
| 18 | TOYOTA HIGHLANDER | Score: 82 |
| 19 | HONDA ODYSSEY | Score: 81 |
| 20 | VOLKSWAGEN JETTA | Score: 80 |
| 21 | FORD FUSION | Score: 80 |
| 22 | SUBARU OUTBACK | Score: 80 |
| 23 | HYUNDAI ELANTRA | Score: 80 |
| 24 | JEEP CHEROKEE | Score: 80 |
| 25 | CHEVROLET SILVERADO | Score: 79 |
Lowest Days on Lot Vehicles
Based on average days on lot for October
| | | |
| --- | --- | --- |
| 1 | HONDA HR-V | 20.8 days |
| 2 | TOYOTA COROLLA | 23.9 days |
| 3 | SUBARU IMPREZA | 25.4 days |
| 4 | NISSAN ALTIMA | 25.5 days |
| 5 | NISSAN SENTRA | 27.0 days |
| 6 | LEXUS RX 350 | 27.6 days |
| 7 | MAZDA CX-5 | 28.2 days |
| 8 | TOYOTA CAMRY | 28.7 days |
| 9 | SUBARU FORESTER | 29.4 days |
| 10 | HONDA ODYSSEY | 29.6 days |
| 11 | VOLKSWAGEN JETTA | 30.3 days |
| 12 | HYUNDAI ELANTRA | 31.0 days |
| 13 | SUBARU OUTBACK | 31.0 days |
| 14 | VOLKSWAGEN TIGUAN | 31.4 days |
| 15 | TOYOTA RAV4 | 32.0 days |
| 16 | ACURA MDX | 32.2 days |
| 17 | HONDA CIVIC | 32.4 days |
| 18 | AUDI Q5 | 32.4 days |
| 19 | HYUNDAI SONATA | 32.6 days |
| 20 | FORD FUSION | 32.8 days |
| 21 | BMW X3 | 33.0 days |
| 22 | HONDA CR-V | 33.1 days |
| 23 | HONDA PILOT | 34.6 days |
| 24 | HONDA ACCORD | 34.7 days |
| 25 | HYUNDAI TUCSON | 34.7 days |
Days on Lot Trend in the Boston Region

October Used Inventory by Year and Mileage
All vehicles for sale in Boston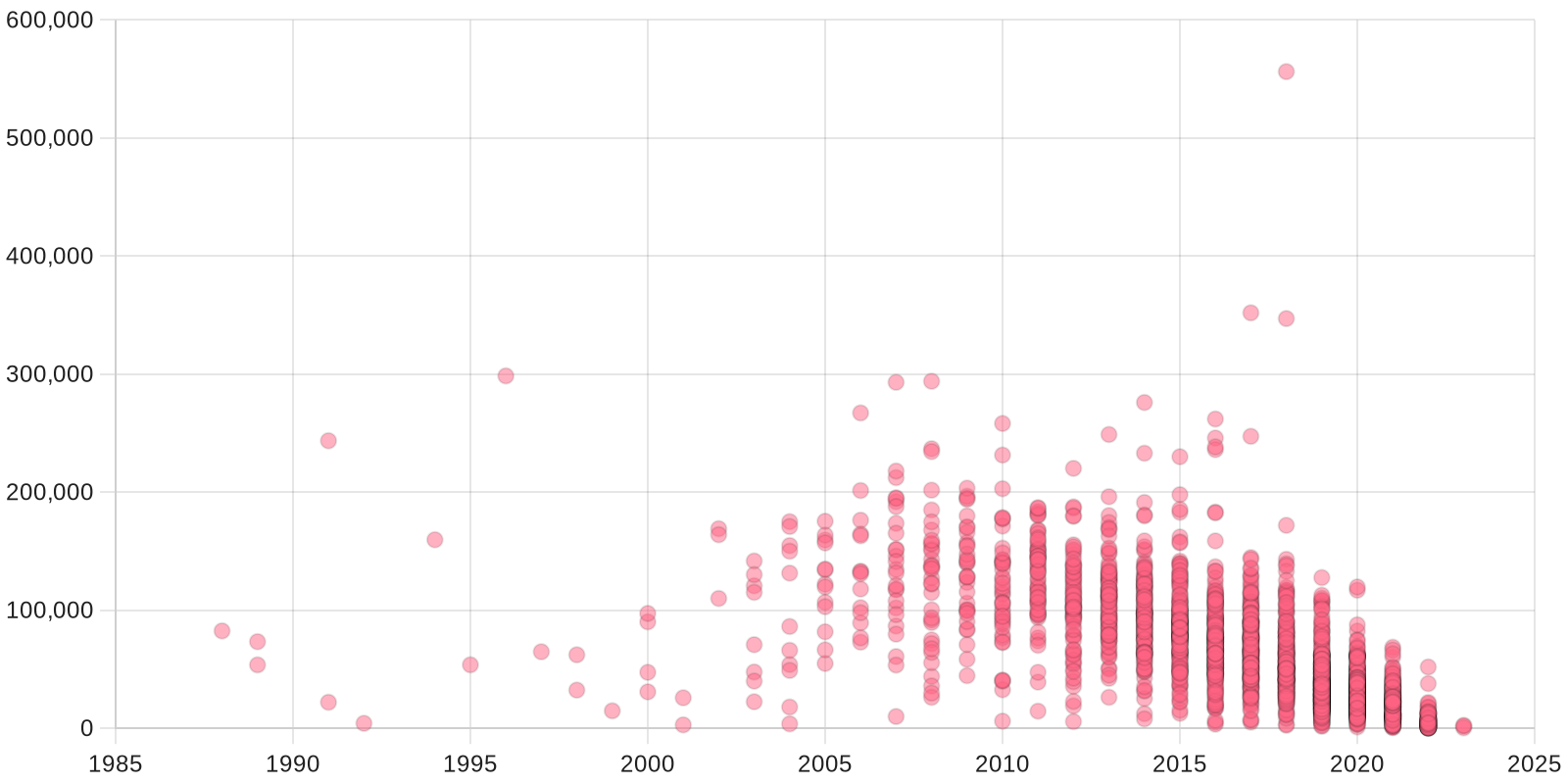 Most Active Dealers
Based on number of vehicles sold
| | |
| --- | --- |
| 1 | The Herb Chambers Companies |
| 2 | CarMax - Danvers |
| 3 | CarMax - Westborough |
| 4 | CarMax - Norwood |
| 5 | McGovern Automotive Group |
| 6 | AutoMax Preowned |
| 7 | Honda North |
| 8 | 24 Auto Group |
| 9 | Bourne's Auto Center |
| 10 | Volkswagen Norwood |
| 11 | Jaguar Norwood |
| 12 | Imperial Cars |
| 13 | Lexus of Watertown |
| 14 | Albrecht Auto Group |
| 15 | Boch Toyota Norwood |
| 16 | Imperial Ford |
| 17 | Herb Chambers Lexus of Sharon |
| 18 | Autobahn USA Westborough |
| 19 | Champion City Motors |
| 20 | Boch Honda |
| 21 | Allegiance Trucks |
| 22 | Richards Motorcars |
| 23 | Midway Automotive Corp |
| 24 | Westboro Toyota |
| 25 | Parkway Honda |
Most Active Independent Dealers
Based on number of vehicles sold by independent auto dealers
| | |
| --- | --- |
| 1 | AutoMax Preowned |
| 2 | 24 Auto Group |
| 3 | Bourne's Auto Center |
| 4 | Imperial Cars |
| 5 | Autobahn USA Westborough |
| 6 | Champion City Motors |
| 7 | Richards Motorcars |
| 8 | Midway Automotive Corp |
| 9 | Avon Auto Brokers |
| 10 | Inman Motors Sales |
| 11 | John's Auto Sales |
| 12 | Autobahn USA Dedham |
| 13 | Wagner Motors |
| 14 | Boch |
| 15 | Central Auto Team |
| 16 | Mirak Automotive Group |
| 17 | AGM AUTO SALES |
| 18 | BidCars Boston |
| 19 | Auto Center Sales & Service Inc. |
| 20 | Lyon-Waugh Auto Group |