Charlotte Region Used Car Market Report
October 2022
Used car sales trends for Charlotte and surrounding communities
October market trends based on used inventory from 318 dealers in the Charlotte region.
45.2 days

35.4 days

Average vehicles sold per dealer
Down 2.7%

Average national wholesale values by month
Wholesale values continued to decline in October. Average wholesale values are down 5% from September and down 10% from the yearly high in June.
Retail Used Inventory Levels

Highest Demand Vehicles in Charlotte for October
Based on number of vehicles sold and average days on lot
| | | |
| --- | --- | --- |
| 1 | HONDA ACCORD | Score: 103 |
| 2 | HONDA CIVIC | Score: 102 |
| 3 | TOYOTA RAV4 | Score: 102 |
| 4 | TOYOTA CAMRY | Score: 101 |
| 5 | FORD F-150 | Score: 100 |
| 6 | TOYOTA 4-RUNNER | Score: 100 |
| 7 | HYUNDAI SONATA | Score: 97 |
| 8 | BMW X3 | Score: 96 |
| 9 | NISSAN ALTIMA | Score: 96 |
| 10 | TOYOTA TUNDRA | Score: 94 |
| 11 | TOYOTA TACOMA | Score: 94 |
| 12 | JEEP WRANGLER UNLIMITED | Score: 93 |
| 13 | HYUNDAI ELANTRA | Score: 93 |
| 14 | TOYOTA HIGHLANDER | Score: 93 |
| 15 | NISSAN ROGUE | Score: 93 |
| 16 | TOYOTA COROLLA | Score: 93 |
| 17 | HONDA CR-V | Score: 92 |
| 18 | HYUNDAI TUCSON | Score: 92 |
| 19 | HYUNDAI SANTA FE | Score: 91 |
| 20 | CHEVROLET SILVERADO | Score: 91 |
| 21 | MAZDA CX-5 | Score: 90 |
| 22 | JEEP GRAND CHEROKEE | Score: 89 |
| 23 | HONDA PILOT | Score: 89 |
| 24 | MERCEDES-BENZ C-CLASS | Score: 88 |
| 25 | CHEVROLET EQUINOX | Score: 88 |
Lowest Days on Lot Vehicles
Based on average days on lot for October
| | | |
| --- | --- | --- |
| 1 | TOYOTA 4-RUNNER | 18.4 days |
| 2 | TOYOTA RAV4 | 18.6 days |
| 3 | BMW X3 | 19.9 days |
| 4 | TOYOTA TUNDRA | 20.3 days |
| 5 | HYUNDAI ELANTRA | 21.2 days |
| 6 | HONDA CIVIC | 21.3 days |
| 7 | TOYOTA COROLLA | 22.2 days |
| 8 | HYUNDAI TUCSON | 22.4 days |
| 9 | HYUNDAI SONATA | 22.6 days |
| 10 | TOYOTA TACOMA | 22.6 days |
| 11 | HYUNDAI SANTA FE | 22.9 days |
| 12 | HONDA ACCORD | 22.9 days |
| 13 | TOYOTA CAMRY | 22.9 days |
| 14 | TOYOTA HIGHLANDER | 23.5 days |
| 15 | MERCEDES-BENZ C-CLASS | 25.0 days |
| 16 | MAZDA CX-5 | 25.1 days |
| 17 | JEEP WRANGLER UNLIMITED | 25.1 days |
| 18 | HONDA PILOT | 25.2 days |
| 19 | NISSAN ROGUE | 25.7 days |
| 20 | FORD MUSTANG | 26.1 days |
| 21 | NISSAN ALTIMA | 26.2 days |
| 22 | CHEVROLET EQUINOX | 27.2 days |
| 23 | FORD FUSION | 27.7 days |
| 24 | HONDA CR-V | 27.8 days |
| 25 | FORD F-150 | 28.1 days |
Days on Lot Trend in the Charlotte Region
October Used Inventory by Year and Mileage
All vehicles for sale in Charlotte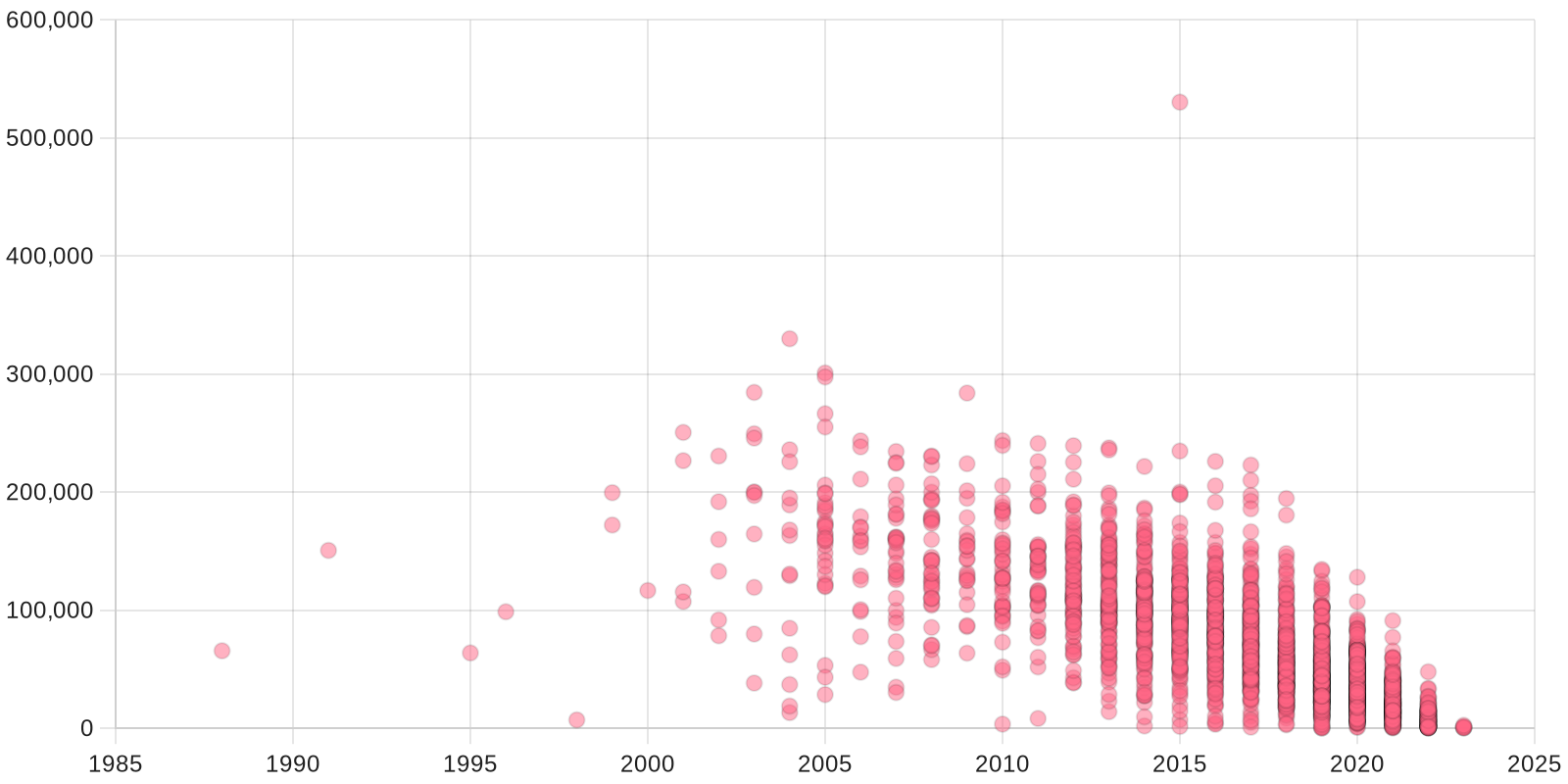 Most Active Dealers
Based on number of vehicles sold
| | |
| --- | --- |
| 1 | Sonic Automotive |
| 2 | CarMax - Independence Boulevard |
| 3 | CarMax - Gastonia |
| 4 | Hendrick Automotive Group |
| 5 | CarMax - South Boulevard |
| 6 | Scott Clark Toyota |
| 7 | Adams North Charlotte |
| 8 | Scott Clark Honda |
| 9 | Lake Norman Chrysler Dodge Jeep Ram |
| 10 | Mazda of South Charlotte |
| 11 | Mark Ficken Ford Lincoln |
| 12 | Gastonia Chevrolet Buick GMC |
| 13 | RideNow Concord |
| 14 | Capital Ford of Charlotte |
| 15 | Rock Hill Nissan |
| 16 | Tindol Ford |
| 17 | Toyota of Gastonia |
| 18 | Gastonia Nissan |
| 19 | Keith Hawthorne Ford |
| 20 | East Charlotte Nissan |
| 21 | Hi-Line Autohaus |
| 22 | Keffer Hyundai |
| 23 | Burns Ford of York |
| 24 | Parks Chevrolet Charlotte |
| 25 | Lake Norman Hyundai |
Most Active Independent Dealers
Based on number of vehicles sold by independent auto dealers
| | |
| --- | --- |
| 1 | Sonic Automotive |
| 2 | Adams North Charlotte |
| 3 | RideNow Concord |
| 4 | Hi-Line Autohaus |
| 5 | 77 Auto |
| 6 | Lift Auto Sales |
| 7 | Auto Revolution |
| 8 | EL JALISQUILLO AUTOS |
| 9 | Furrst Class Cars LLC |
| 10 | Right 1 Auto by Keffer |
| 11 | A & J Used Cars |
| 12 | Auto America |
| 13 | Iron Horse Motorcycles |
| 14 | Real Steal Auto Sales & Repair Inc |
| 15 | Godspeed Motors |
| 16 | iMotors And Trucks LLC |
| 17 | TOP GEARS MOTOR |
| 18 | Carflex Auto Inc |
| 19 | Godspeed Motors Inc |
| 20 | Carolina Auto Warehouse |
Internet Search Trends
Interesting internet search trends from people in Charlotte
| | |
| --- | --- |
| Toyota Minivan | Up 84% |
| Used Nissan Rogue | Up 27% |
| Buick | Up 26% |
| Audi A4 | Down 38% |
| Ford Bronco Sport | Down 33% |