Detroit Region Used Car Market Report
October 2022
Used car sales trends for Detroit and surrounding communities
October market trends based on used inventory from 491 dealers in the Detroit region.
51.3 days

35.4 days

Average vehicles sold per dealer
Up 0.9%
Average national wholesale values by month
Wholesale values continued to decline in October. Average wholesale values are down 5% from September and down 10% from the yearly high in June.
Retail Used Inventory Levels

Highest Demand Vehicles in Detroit for October
Based on number of vehicles sold and average days on lot
| | | |
| --- | --- | --- |
| 1 | CHEVROLET EQUINOX | Score: 131 |
| 2 | FORD ESCAPE | Score: 123 |
| 3 | FORD FUSION | Score: 103 |
| 4 | CHEVROLET SILVERADO | Score: 102 |
| 5 | CHEVROLET TRAX | Score: 98 |
| 6 | CHEVROLET BLAZER | Score: 96 |
| 7 | FORD F-150 | Score: 96 |
| 8 | FORD EDGE | Score: 92 |
| 9 | FORD EXPLORER | Score: 92 |
| 10 | CHEVROLET MALIBU | Score: 91 |
| 11 | CHEVROLET TRAVERSE | Score: 91 |
| 12 | JEEP GRAND CHEROKEE | Score: 90 |
| 13 | JEEP COMPASS | Score: 89 |
| 14 | GMC TERRAIN | Score: 87 |
| 15 | FORD FOCUS | Score: 84 |
| 16 | RAM 1500 | Score: 83 |
| 17 | CHEVROLET IMPALA | Score: 82 |
| 18 | GMC ACADIA | Score: 78 |
| 19 | JEEP CHEROKEE | Score: 77 |
| 20 | CHEVROLET TAHOE | Score: 77 |
| 21 | BUICK ENCLAVE | Score: 76 |
| 22 | JEEP WRANGLER UNLIMITED | Score: 76 |
| 23 | BUICK ENCORE | Score: 75 |
| 24 | CHRYSLER PACIFICA | Score: 75 |
| 25 | CHEVROLET CRUZE | Score: 74 |
Lowest Days on Lot Vehicles
Based on average days on lot for October
| | | |
| --- | --- | --- |
| 1 | FORD FOCUS | 29.0 days |
| 2 | FORD FUSION | 29.2 days |
| 3 | CHEVROLET TRAX | 29.5 days |
| 4 | FORD ESCAPE | 29.7 days |
| 5 | CHEVROLET IMPALA | 30.8 days |
| 6 | CHEVROLET BLAZER | 31.7 days |
| 7 | CHEVROLET SILVERADO | 32.9 days |
| 8 | CHEVROLET TRAVERSE | 33.3 days |
| 9 | CHEVROLET TAHOE | 35.8 days |
| 10 | CHRYSLER PACIFICA | 35.8 days |
| 11 | CHEVROLET MALIBU | 35.8 days |
| 12 | BUICK ENCLAVE | 35.9 days |
| 13 | JEEP COMPASS | 37.3 days |
| 14 | FORD EDGE | 37.7 days |
| 15 | FORD EXPLORER | 37.7 days |
| 16 | JEEP WRANGLER UNLIMITED | 38.1 days |
| 17 | CHEVROLET EQUINOX | 38.2 days |
| 18 | CHEVROLET CRUZE | 39.0 days |
| 19 | GMC TERRAIN | 39.1 days |
| 20 | FORD F-150 | 40.7 days |
| 21 | GMC SIERRA | 40.9 days |
| 22 | BUICK ENCORE | 41.1 days |
| 23 | JEEP CHEROKEE | 41.1 days |
| 24 | GMC ACADIA | 41.2 days |
| 25 | DODGE JOURNEY | 41.3 days |
Days on Lot Trend in the Detroit Region

October Used Inventory by Year and Mileage
All vehicles for sale in Detroit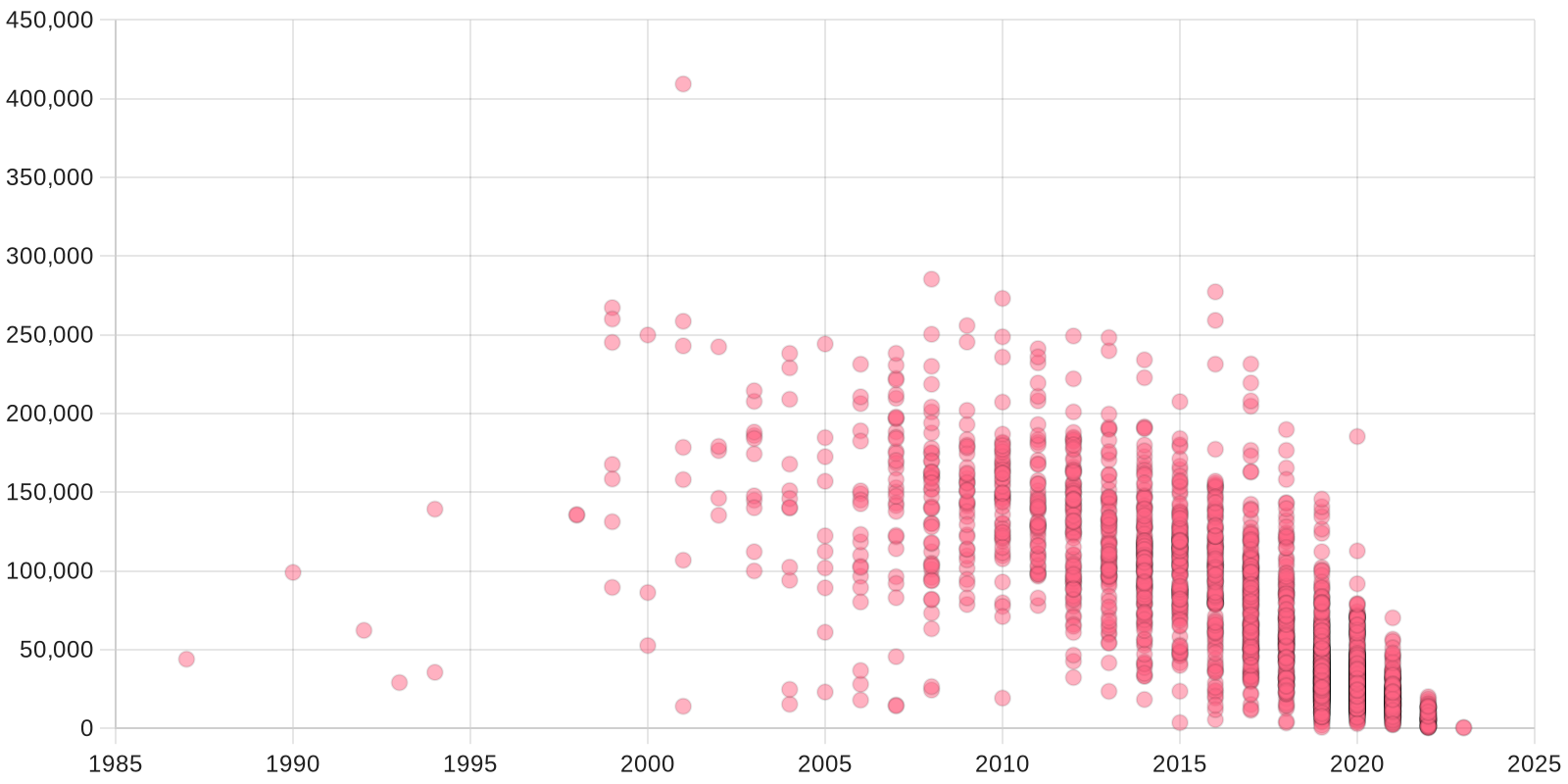 Most Active Dealers
Based on number of vehicles sold
| | |
| --- | --- |
| 1 | Feldman 1800PreOwned Super Center |
| 2 | Suburban Ford of Ferndale |
| 3 | Feldman Ford of Detroit |
| 4 | Serra Whelan Chevrolet |
| 5 | Jimmys Car Deals at Feldman Chevrolet of Livonia |
| 6 | Matick Chevrolet |
| 7 | City of Cars |
| 8 | Serra Buick GMC Cadillac |
| 9 | Mike Dorian Ford Inc |
| 10 | LaFontaine Honda Dearborn |
| 11 | Sellers Buick GMC |
| 12 | Suburban Chrysler Dodge Jeep Ram of Troy |
| 13 | Suburban Ford of Waterford |
| 14 | Moran Automotive |
| 15 | MATTHEWS HARGREAVES CHEVROLET |
| 16 | Pat Milliken Ford |
| 17 | Suburban Ford of Sterling Heights |
| 18 | Meade Lexus of Southfield |
| 19 | Taylor Chevrolet |
| 20 | Serra Buick GMC of Rochester Hills |
| 21 | Ed Rinke Chevrolet Buick GMC |
| 22 | Taylor Ford |
| 23 | Tom Holzer Ford |
| 24 | Les Stanford Cadillac |
| 25 | Avis Ford |
Most Active Independent Dealers
Based on number of vehicles sold by independent auto dealers
| | |
| --- | --- |
| 1 | Feldman 1800PreOwned Super Center |
| 2 | City of Cars |
| 3 | Moran Automotive |
| 4 | George's Used Cars |
| 5 | Dee's Auto |
| 6 | Twins Auto Sales Inc |
| 7 | Car Source |
| 8 | Glassman Auto Group |
| 9 | R&R Car Company |
| 10 | Legend Motors of Waterford |
| 11 | Road Runner Auto Sales |
| 12 | F & M AUTO SALES |
| 13 | Newcombs Auto Sales |
| 14 | Joe Ricci Automotive |
| 15 | A & B Motors |
| 16 | BrokersAndSellers.com |
| 17 | R Tony Auto Sales |
| 18 | Empire Auto Sales |
| 19 | Best of Michigan Auto Sales |
| 20 | Ray Laethem Motor Village |
Internet Search Trends
Interesting internet search trends from people in Detroit
| | |
| --- | --- |
| Ford Mustang | Up 125% |
| Jaguar | Up 83% |
| Toyota Minivan | Up 51% |
| Used Chevy Traverse | Down 47% |