Philadelphia Region Used Car Market Report
October 2022
Used car sales trends for Philadelphia and surrounding communities
October market trends based on used inventory from 557 dealers in the Philadelphia region.
51.1 days

35.4 days

Average vehicles sold per dealer
Down 0.9%

Average national wholesale values by month
Wholesale values continued to decline in October. Average wholesale values are down 5% from September and down 10% from the yearly high in June.
Retail Used Inventory Levels
Highest Demand Vehicles in Philadelphia for October
Based on number of vehicles sold and average days on lot
| | | |
| --- | --- | --- |
| 1 | HONDA CIVIC | Score: 99 |
| 2 | MAZDA CX-5 | Score: 94 |
| 3 | TOYOTA COROLLA | Score: 94 |
| 4 | HONDA ACCORD | Score: 93 |
| 5 | TOYOTA RAV4 | Score: 93 |
| 6 | TOYOTA CAMRY | Score: 91 |
| 7 | NISSAN SENTRA | Score: 90 |
| 8 | NISSAN ROGUE | Score: 89 |
| 9 | NISSAN MAXIMA | Score: 88 |
| 10 | FORD F-150 | Score: 87 |
| 11 | HYUNDAI TUCSON | Score: 87 |
| 12 | TOYOTA HIGHLANDER | Score: 86 |
| 13 | NISSAN ALTIMA | Score: 85 |
| 14 | HONDA CR-V | Score: 85 |
| 15 | CHEVROLET MALIBU | Score: 84 |
| 16 | FORD ESCAPE | Score: 84 |
| 17 | HYUNDAI SONATA | Score: 83 |
| 18 | JEEP GRAND CHEROKEE | Score: 82 |
| 19 | VOLKSWAGEN TIGUAN | Score: 81 |
| 20 | JEEP WRANGLER UNLIMITED | Score: 81 |
| 21 | HYUNDAI ELANTRA | Score: 80 |
| 22 | FORD FUSION | Score: 80 |
| 23 | NISSAN PATHFINDER | Score: 80 |
| 24 | AUDI Q5 | Score: 80 |
| 25 | VOLKSWAGEN JETTA | Score: 80 |
Lowest Days on Lot Vehicles
Based on average days on lot for October
| | | |
| --- | --- | --- |
| 1 | MAZDA CX-5 | 21.8 days |
| 2 | NISSAN MAXIMA | 23.8 days |
| 3 | HONDA CIVIC | 23.9 days |
| 4 | HYUNDAI TUCSON | 25.5 days |
| 5 | NISSAN SENTRA | 26.4 days |
| 6 | TOYOTA COROLLA | 27.4 days |
| 7 | CHEVROLET MALIBU | 29.0 days |
| 8 | HONDA ACCORD | 29.1 days |
| 9 | VOLKSWAGEN TIGUAN | 29.7 days |
| 10 | TOYOTA CAMRY | 29.9 days |
| 11 | AUDI Q5 | 30.1 days |
| 12 | TOYOTA HIGHLANDER | 30.3 days |
| 13 | HYUNDAI SONATA | 30.6 days |
| 14 | NISSAN PATHFINDER | 31.5 days |
| 15 | BMW X3 | 31.6 days |
| 16 | VOLKSWAGEN JETTA | 31.6 days |
| 17 | TOYOTA RAV4 | 31.9 days |
| 18 | KIA SORENTO | 33.3 days |
| 19 | FORD FUSION | 33.7 days |
| 20 | JEEP WRANGLER UNLIMITED | 33.8 days |
| 21 | DODGE DURANGO | 33.8 days |
| 22 | SUBARU FORESTER | 33.9 days |
| 23 | JEEP COMPASS | 33.9 days |
| 24 | NISSAN MURANO | 34.2 days |
| 25 | CHEVROLET TRAVERSE | 34.6 days |
Days on Lot Trend in the Philadelphia Region

October Used Inventory by Year and Mileage
All vehicles for sale in Philadelphia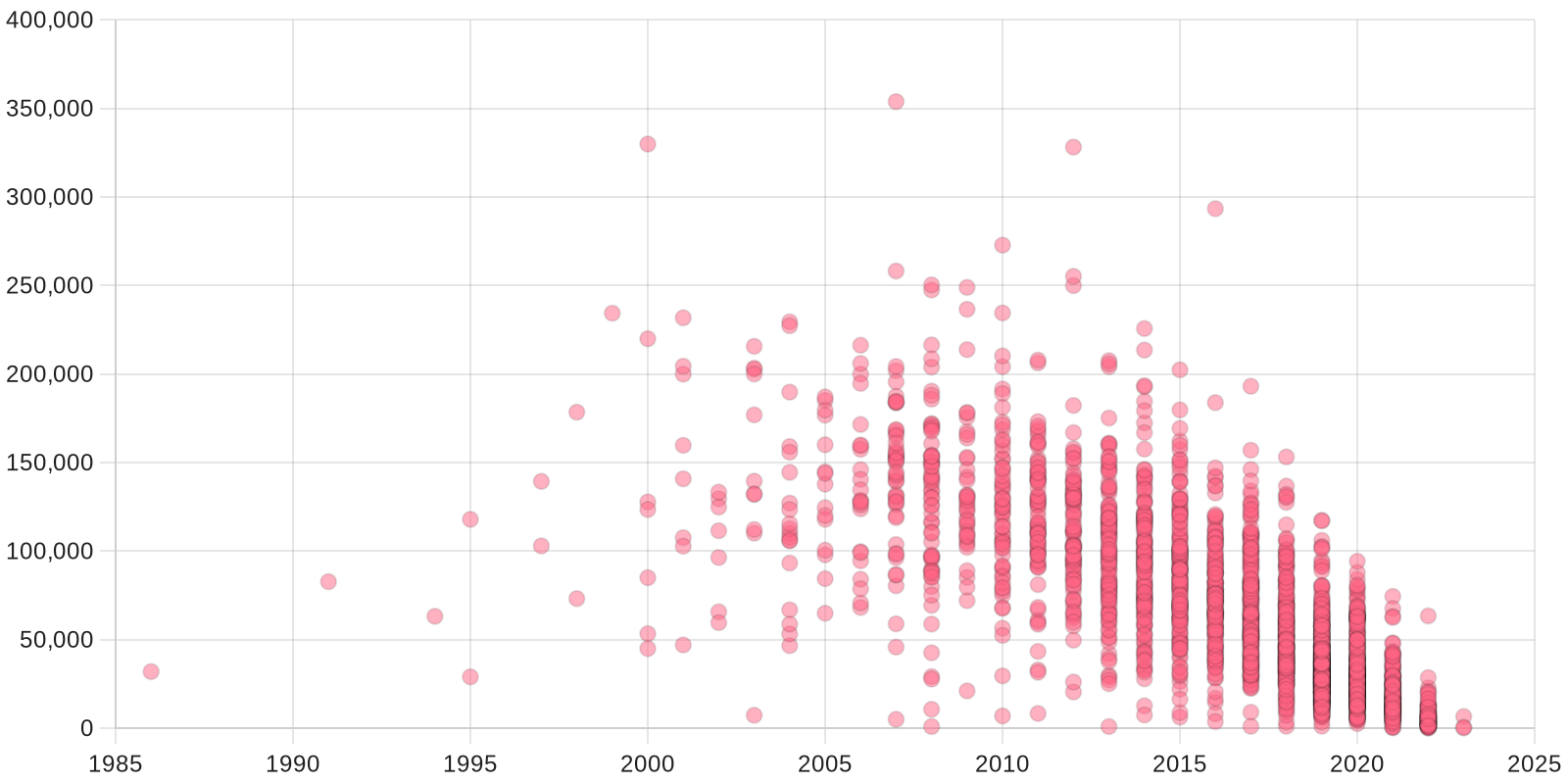 Most Active Dealers
Based on number of vehicles sold
| | |
| --- | --- |
| 1 | CarMax - Turnersville |
| 2 | CarMax - Maple Shade |
| 3 | Car Vision Mitsubishi Norristown |
| 4 | CarMax - King of Prussia |
| 5 | CarMax - Langhorne |
| 6 | Holman Toyota |
| 7 | Toyota of Runnemede |
| 8 | Burns Hyundai |
| 9 | Apollo Auto Sales |
| 10 | Peruzzi Mazda |
| 11 | Pacifico Auto Group |
| 12 | BMW of Devon |
| 13 | North Penn Volkswagen |
| 14 | Conicelli Toyota of Conshohocken |
| 15 | Honda of Abington |
| 16 | Infiniti of Ardmore |
| 17 | BMW of Mount Laurel |
| 18 | Burns Honda |
| 19 | GRANITE RUN PRE OWNED CAR AND TRUCK OUTLET |
| 20 | CHAPMAN FORD NORTHEAST PHILADELPHIA |
| 21 | Team Toyota of Langhorne |
| 22 | Holman Ford Turnersville |
| 23 | Davis Honda |
| 24 | Ardmore Toyota |
| 25 | Thompson Lexus Willow Grove |
Most Active Independent Dealers
Based on number of vehicles sold by independent auto dealers
| | |
| --- | --- |
| 1 | Apollo Auto Sales |
| 2 | GRANITE RUN PRE OWNED CAR AND TRUCK OUTLET |
| 3 | Car N Drive |
| 4 | Mayfair Imports Auto Sales |
| 5 | Highline Motor Cars |
| 6 | Bristol Auto Mall |
| 7 | A & R Used Cars |
| 8 | Used Cars, Used SUVs, Used Trucks, Auto Finance, Car Loans, Philadelphia PA - NaryanAuto.com |
| 9 | Scott Select |
| 10 | Fellah Auto Group |
| 11 | Samson Motors |
| 12 | CarsIndex County Line Rd |
| 13 | Mainline Auto LLC |
| 14 | G MOTORS |
| 15 | Best Buy In Town Inc |
| 16 | Grace Auto Group |
| 17 | Pro Sport Motors |
| 18 | Premier Auto Group |
| 19 | J&S 6 Mt. Holly |
| 20 | Sloane Automotive Group |
Internet Search Trends
Interesting internet search trends from people in Philadelphia
| | |
| --- | --- |
| Toyota Minivan | Up 48% |
| Buick | Up 22% |
| Ford Mustang | Up 22% |
| Honda Insight | Down 45% |
| Tesla Model S | Down 33% |