Sacramento Region Used Car Market Report
October 2022
Used car sales trends for Sacramento and surrounding communities
October market trends based on used inventory from 369 dealers in the Sacramento region.
51.3 days

35.4 days

Average vehicles sold per dealer
Down 12.8%

Average national wholesale values by month
Wholesale values continued to decline in October. Average wholesale values are down 5% from September and down 10% from the yearly high in June.
Retail Used Inventory Levels
Highest Demand Vehicles in Sacramento for October
Based on number of vehicles sold and average days on lot
| | | |
| --- | --- | --- |
| 1 | HONDA CIVIC | Score: 119 |
| 2 | HONDA ACCORD | Score: 109 |
| 3 | TOYOTA CAMRY | Score: 106 |
| 4 | MERCEDES-BENZ C-CLASS | Score: 99 |
| 5 | TOYOTA RAV4 | Score: 98 |
| 6 | TOYOTA TACOMA | Score: 98 |
| 7 | HONDA CR-V | Score: 95 |
| 8 | FORD F-150 | Score: 93 |
| 9 | TOYOTA HIGHLANDER | Score: 90 |
| 10 | NISSAN ALTIMA | Score: 89 |
| 11 | TOYOTA COROLLA | Score: 88 |
| 12 | RAM 1500 | Score: 86 |
| 13 | FORD EXPLORER | Score: 84 |
| 14 | FORD FUSION | Score: 80 |
| 15 | CHEVROLET SILVERADO | Score: 71 |
Lowest Days on Lot Vehicles
Based on average days on lot for October
| | | |
| --- | --- | --- |
| 1 | MERCEDES-BENZ C-CLASS | 22.0 days |
| 2 | TOYOTA RAV4 | 22.1 days |
| 3 | TOYOTA CAMRY | 22.2 days |
| 4 | HONDA CIVIC | 22.7 days |
| 5 | HONDA ACCORD | 23.5 days |
| 6 | TOYOTA TACOMA | 24.7 days |
| 7 | TOYOTA HIGHLANDER | 26.7 days |
| 8 | HONDA CR-V | 26.8 days |
| 9 | FORD F-150 | 30.8 days |
| 10 | NISSAN ALTIMA | 31.4 days |
| 11 | FORD EXPLORER | 31.4 days |
| 12 | RAM 1500 | 32.6 days |
| 13 | TOYOTA COROLLA | 35.2 days |
| 14 | FORD FUSION | 36.2 days |
| 15 | CHEVROLET SILVERADO | 45.7 days |
Days on Lot Trend in the Sacramento Region

October Used Inventory by Year and Mileage
All vehicles for sale in Sacramento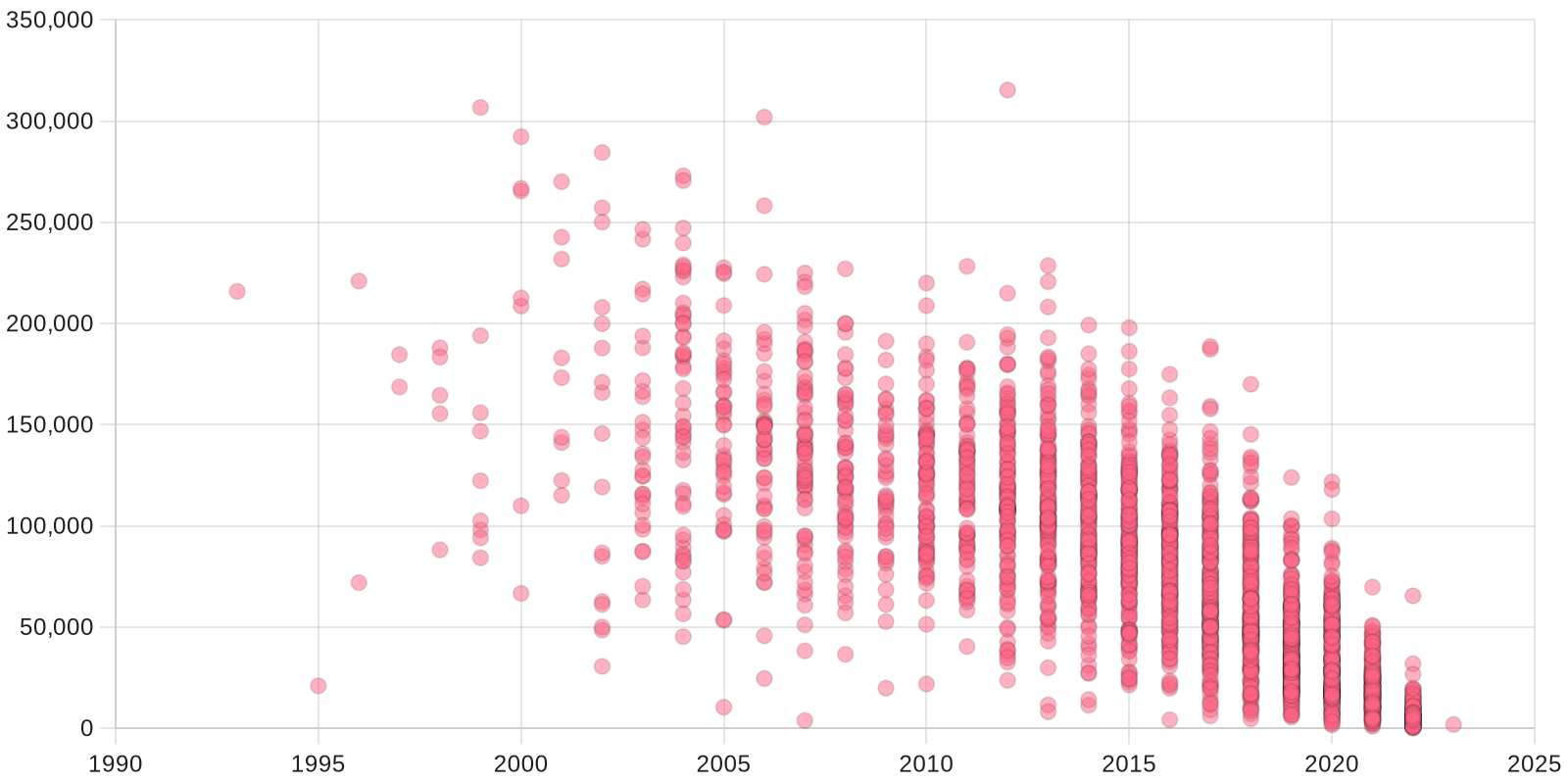 Most Active Dealers
Based on number of vehicles sold
| | |
| --- | --- |
| 1 | CarMax - Sacramento/Roseville |
| 2 | CarMax - Sacramento South |
| 3 | Folsom Auto Mall |
| 4 | Roseville Toyota |
| 5 | Future Nissan of Roseville |
| 6 | Shottenkirk Honda of Davis |
| 7 | Sacramento Chrysler Dodge Jeep Ram |
| 8 | TRIPLE CROWN AUTO SALES |
| 9 | Mercedes-Benz of El Dorado Hills |
| 10 | Roseville Automall |
| 11 | M&S Auto |
| 12 | INFINITI Roseville |
| 13 | Future Nissan of Folsom |
| 14 | AutoNation Honda Roseville |
| 15 | Folsom Lake Ford |
| 16 | Lexus of Sacramento |
| 17 | Lexus of Roseville |
| 18 | Elk Grove Toyota |
| 19 | Elk Grove Buick GMC |
| 20 | Sacramento Luxury Motors |
| 21 | Kareem Auto Sales Inc |
| 22 | Niello Acura |
| 23 | Mercedes-Benz of Rocklin |
| 24 | Maita Chevrolet |
| 25 | Elk Grove Dodge Chrysler Jeep Ram |
Most Active Independent Dealers
Based on number of vehicles sold by independent auto dealers
| | |
| --- | --- |
| 1 | Folsom Auto Mall |
| 2 | TRIPLE CROWN AUTO SALES |
| 3 | Roseville Automall |
| 4 | M&S Auto |
| 5 | Sacramento Luxury Motors |
| 6 | Kareem Auto Sales Inc |
| 7 | REAL DEAL AUTO |
| 8 | Abe's Motorsports |
| 9 | High Class Auto Sales |
| 10 | Hayes Auto Sales |
| 11 | Elegant Auto Sales |
| 12 | Exclusive Motors |
| 13 | Auto Zoom 916 Rancho Cordova |
| 14 | Roseville Auto Sales |
| 15 | Integrity Auto Sales |
| 16 | West Coast Auto Sales Center |
| 17 | Reliable Auto Source |
| 18 | Famous Motorsports |
| 19 | Cal Auto Outlet 4 Cars |
| 20 | Lions Auto Sales |
Internet Search Trends
Interesting internet search trends from people in Sacramento
| | |
| --- | --- |
| Used Acura MDX | Up 57% |
| Pontiac Firebird | Up 30% |
| Dodge Ram 1500 | Up 30% |
| Used Tesla | Down 38% |
| Honda HR V | Down 34% |