Seattle Region Used Car Market Report
October 2022
Used car sales trends for Seattle and surrounding communities
October market trends based on used inventory from 448 dealers in the Seattle region.
50.6 days

35.4 days

Average vehicles sold per dealer
Down 7.4%
Average national wholesale values by month
Wholesale values continued to decline in October. Average wholesale values are down 5% from September and down 10% from the yearly high in June.
Retail Used Inventory Levels
Highest Demand Vehicles in Seattle for October
Based on number of vehicles sold and average days on lot
| | | |
| --- | --- | --- |
| 1 | TOYOTA RAV4 | Score: 97 |
| 2 | HYUNDAI TUCSON | Score: 96 |
| 3 | HONDA CIVIC | Score: 96 |
| 4 | TOYOTA CAMRY | Score: 92 |
| 5 | HYUNDAI ELANTRA | Score: 90 |
| 6 | SUBARU OUTBACK | Score: 90 |
| 7 | NISSAN ALTIMA | Score: 89 |
| 8 | HONDA CR-V | Score: 88 |
| 9 | SUBARU FORESTER | Score: 88 |
| 10 | KIA FORTE | Score: 87 |
| 11 | TOYOTA COROLLA | Score: 87 |
| 12 | HONDA ACCORD | Score: 86 |
| 13 | FORD ESCAPE | Score: 86 |
| 14 | TOYOTA PRIUS | Score: 85 |
| 15 | MAZDA CX-5 | Score: 85 |
| 16 | MAZDA MAZDA3 | Score: 85 |
| 17 | SUBARU CROSSTREK | Score: 85 |
| 18 | TOYOTA HIGHLANDER | Score: 84 |
| 19 | FORD F-150 | Score: 81 |
| 20 | HYUNDAI SONATA | Score: 81 |
| 21 | TOYOTA TACOMA | Score: 80 |
| 22 | VOLKSWAGEN JETTA | Score: 80 |
| 23 | SUBARU IMPREZA | Score: 80 |
| 24 | FORD FOCUS | Score: 79 |
| 25 | FORD FUSION | Score: 79 |
Lowest Days on Lot Vehicles
Based on average days on lot for October
| | | |
| --- | --- | --- |
| 1 | HYUNDAI TUCSON | 19.1 days |
| 2 | NISSAN ALTIMA | 24.2 days |
| 3 | TOYOTA RAV4 | 24.5 days |
| 4 | KIA FORTE | 24.6 days |
| 5 | SUBARU OUTBACK | 26.2 days |
| 6 | HYUNDAI ELANTRA | 26.3 days |
| 7 | SUBARU CROSSTREK | 26.7 days |
| 8 | HONDA CIVIC | 27.0 days |
| 9 | SUBARU FORESTER | 27.4 days |
| 10 | TOYOTA PRIUS | 27.4 days |
| 11 | MAZDA MAZDA3 | 27.8 days |
| 12 | TOYOTA CAMRY | 28.5 days |
| 13 | FORD ESCAPE | 29.0 days |
| 14 | MAZDA CX-5 | 29.5 days |
| 15 | HONDA CR-V | 30.8 days |
| 16 | VOLKSWAGEN JETTA | 30.8 days |
| 17 | TOYOTA COROLLA | 31.2 days |
| 18 | HONDA ACCORD | 31.3 days |
| 19 | TOYOTA HIGHLANDER | 31.3 days |
| 20 | TOYOTA SIENNA | 31.5 days |
| 21 | HYUNDAI SONATA | 31.5 days |
| 22 | FORD FOCUS | 31.9 days |
| 23 | NISSAN SENTRA | 32.3 days |
| 24 | BMW X5 | 33.0 days |
| 25 | CHEVROLET MALIBU | 33.3 days |
Days on Lot Trend in the Seattle Region
October Used Inventory by Year and Mileage
All vehicles for sale in Seattle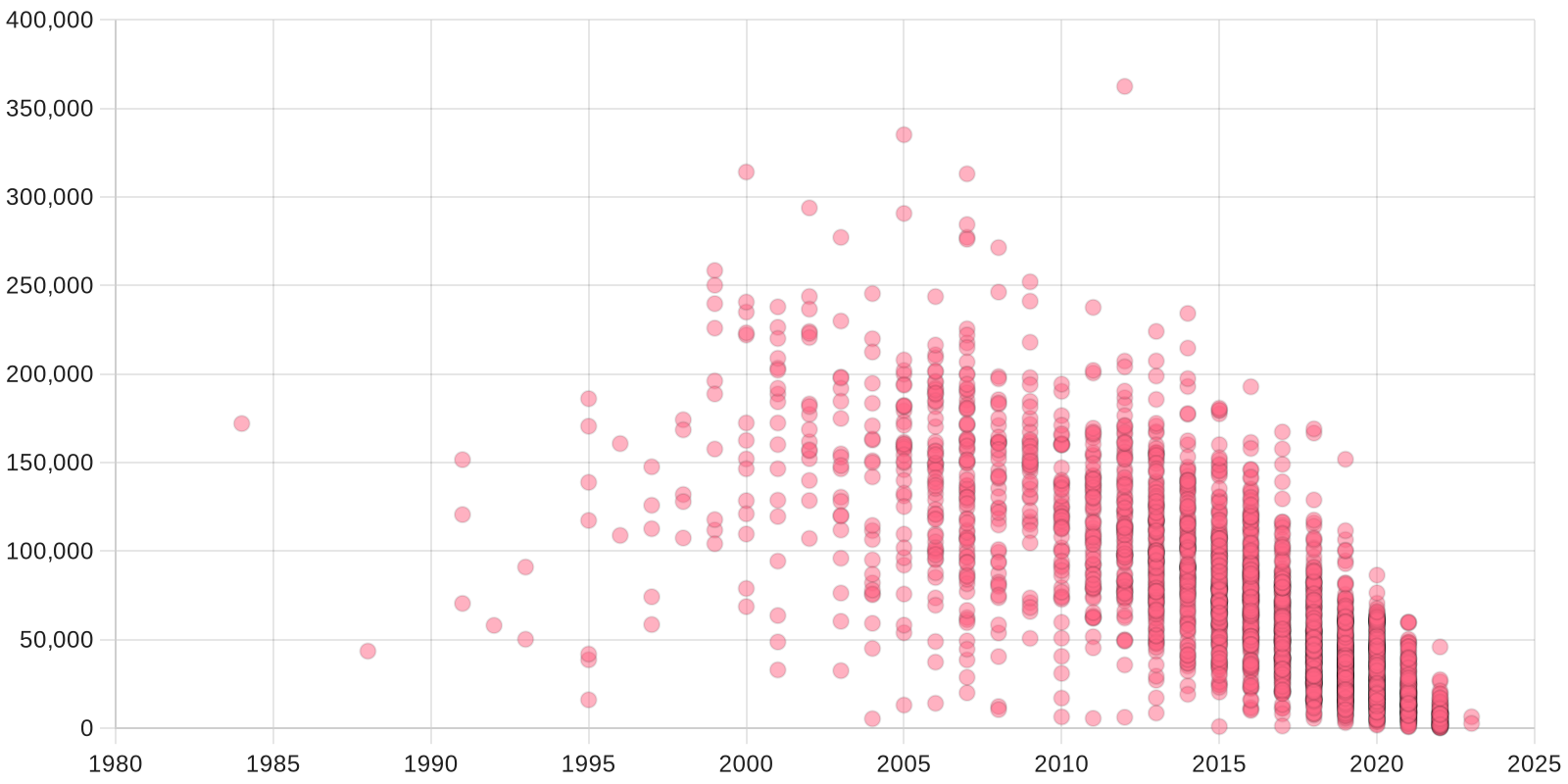 Most Active Dealers
Based on number of vehicles sold
| | |
| --- | --- |
| 1 | Swickard Toyota |
| 2 | CarMax - Puyallup |
| 3 | CarMax - Renton |
| 4 | Volkswagen of Tacoma |
| 5 | Titus-Will Automotive Group |
| 6 | CarMax - Lynnwood |
| 7 | Haselwood Volkswagen of Bremerton |
| 8 | Rairdons Auto Outlet |
| 9 | Legend Auto Sales |
| 10 | Lee Johnson Hyundai of Everett |
| 11 | Jeremy Sells Hyundai |
| 12 | Car Pros Kia Tacoma |
| 13 | Rairdon's Honda of Sumner |
| 14 | Hyundai of Seattle |
| 15 | Bill Pierre Ford |
| 16 | Tacoma Nissan |
| 17 | Toyota of Seattle |
| 18 | Rairdon's Subaru of Auburn |
| 19 | Sound Ford Inc. |
| 20 | Advantage Auto Direct |
| 21 | Washington Auto Credit |
| 22 | First National Tacoma |
| 23 | 405 Motors |
| 24 | Way Scarff Ford Auburn |
| 25 | Harris Mitsubishi |
Most Active Independent Dealers
Based on number of vehicles sold by independent auto dealers
| | |
| --- | --- |
| 1 | Rairdons Auto Outlet |
| 2 | Legend Auto Sales |
| 3 | Advantage Auto Direct |
| 4 | Washington Auto Credit |
| 5 | First National Tacoma |
| 6 | 405 Motors |
| 7 | ZAG Motors |
| 8 | West Coast Auto Works |
| 9 | Elliott Bay Auto Brokers |
| 10 | 777 Auto Sales and Service |
| 11 | Definitive Motors |
| 12 | Carson Cars |
| 13 | APX Auto Brokers |
| 14 | Motors Northwest |
| 15 | Curbside Motors |
| 16 | Korum Automotive Group |
| 17 | Rich's Car Corner |
| 18 | Gene Pankey Motor Company |
| 19 | Sports Cars International |
| 20 | PNW Luxury Cars |
Internet Search Trends
Interesting internet search trends from people in Seattle
| | |
| --- | --- |
| Ford Mustang | Up 50% |
| Toyota Minivan | Up 49% |
| Used Chevy Tahoe | Up 27% |
| Used Prius | Down 46% |
| Chevy Cobalt | Down 46% |