Tampa Region Used Car Market Report
October 2022
Used car sales trends for Tampa and surrounding communities
October market trends based on used inventory from 432 dealers in the Tampa region.
46.3 days

35.4 days

Average vehicles sold per dealer
Down 1.9%

Average national wholesale values by month
Wholesale values continued to decline in October. Average wholesale values are down 5% from September and down 10% from the yearly high in June.
Retail Used Inventory Levels
Highest Demand Vehicles in Tampa for October
Based on number of vehicles sold and average days on lot
| | | |
| --- | --- | --- |
| 1 | HONDA CIVIC | Score: 104 |
| 2 | TOYOTA CAMRY | Score: 103 |
| 3 | TOYOTA COROLLA | Score: 102 |
| 4 | HONDA CR-V | Score: 101 |
| 5 | HONDA ACCORD | Score: 100 |
| 6 | FORD F-150 | Score: 99 |
| 7 | NISSAN SENTRA | Score: 98 |
| 8 | NISSAN ROGUE | Score: 98 |
| 9 | HYUNDAI ELANTRA | Score: 96 |
| 10 | TOYOTA RAV4 | Score: 95 |
| 11 | CHEVROLET SILVERADO | Score: 91 |
| 12 | TOYOTA HIGHLANDER | Score: 91 |
| 13 | KIA SOUL | Score: 90 |
| 14 | NISSAN ALTIMA | Score: 88 |
| 15 | MAZDA CX-5 | Score: 87 |
| 16 | KIA FORTE | Score: 87 |
| 17 | TOYOTA TACOMA | Score: 87 |
| 18 | HYUNDAI SONATA | Score: 86 |
| 19 | HYUNDAI SANTA FE | Score: 85 |
| 20 | CHEVROLET CAMARO | Score: 85 |
| 21 | TOYOTA TUNDRA | Score: 85 |
| 22 | JEEP GRAND CHEROKEE | Score: 85 |
| 23 | HYUNDAI TUCSON | Score: 85 |
| 24 | JEEP WRANGLER UNLIMITED | Score: 84 |
| 25 | RAM 1500 | Score: 84 |
Lowest Days on Lot Vehicles
Based on average days on lot for October
| | | |
| --- | --- | --- |
| 1 | NISSAN SENTRA | 18.0 days |
| 2 | HONDA ACCORD | 19.8 days |
| 3 | HONDA CR-V | 20.4 days |
| 4 | NISSAN ROGUE | 20.8 days |
| 5 | HONDA CIVIC | 21.4 days |
| 6 | KIA SOUL | 23.3 days |
| 7 | HYUNDAI ELANTRA | 24.1 days |
| 8 | TOYOTA COROLLA | 24.4 days |
| 9 | TOYOTA CAMRY | 24.4 days |
| 10 | TOYOTA HIGHLANDER | 24.5 days |
| 11 | MAZDA CX-5 | 24.7 days |
| 12 | KIA FORTE | 25.3 days |
| 13 | CHEVROLET CAMARO | 26.9 days |
| 14 | TOYOTA TUNDRA | 27.0 days |
| 15 | TOYOTA RAV4 | 28.0 days |
| 16 | HYUNDAI TUCSON | 28.4 days |
| 17 | VOLKSWAGEN JETTA | 28.6 days |
| 18 | HYUNDAI SANTA FE | 28.6 days |
| 19 | HYUNDAI SONATA | 29.5 days |
| 20 | TOYOTA TACOMA | 30.1 days |
| 21 | NISSAN ALTIMA | 30.2 days |
| 22 | JEEP GRAND CHEROKEE | 30.3 days |
| 23 | CHEVROLET EQUINOX | 31.0 days |
| 24 | JEEP CHEROKEE | 31.6 days |
| 25 | FORD EXPLORER | 31.6 days |
Days on Lot Trend in the Tampa Region

October Used Inventory by Year and Mileage
All vehicles for sale in Tampa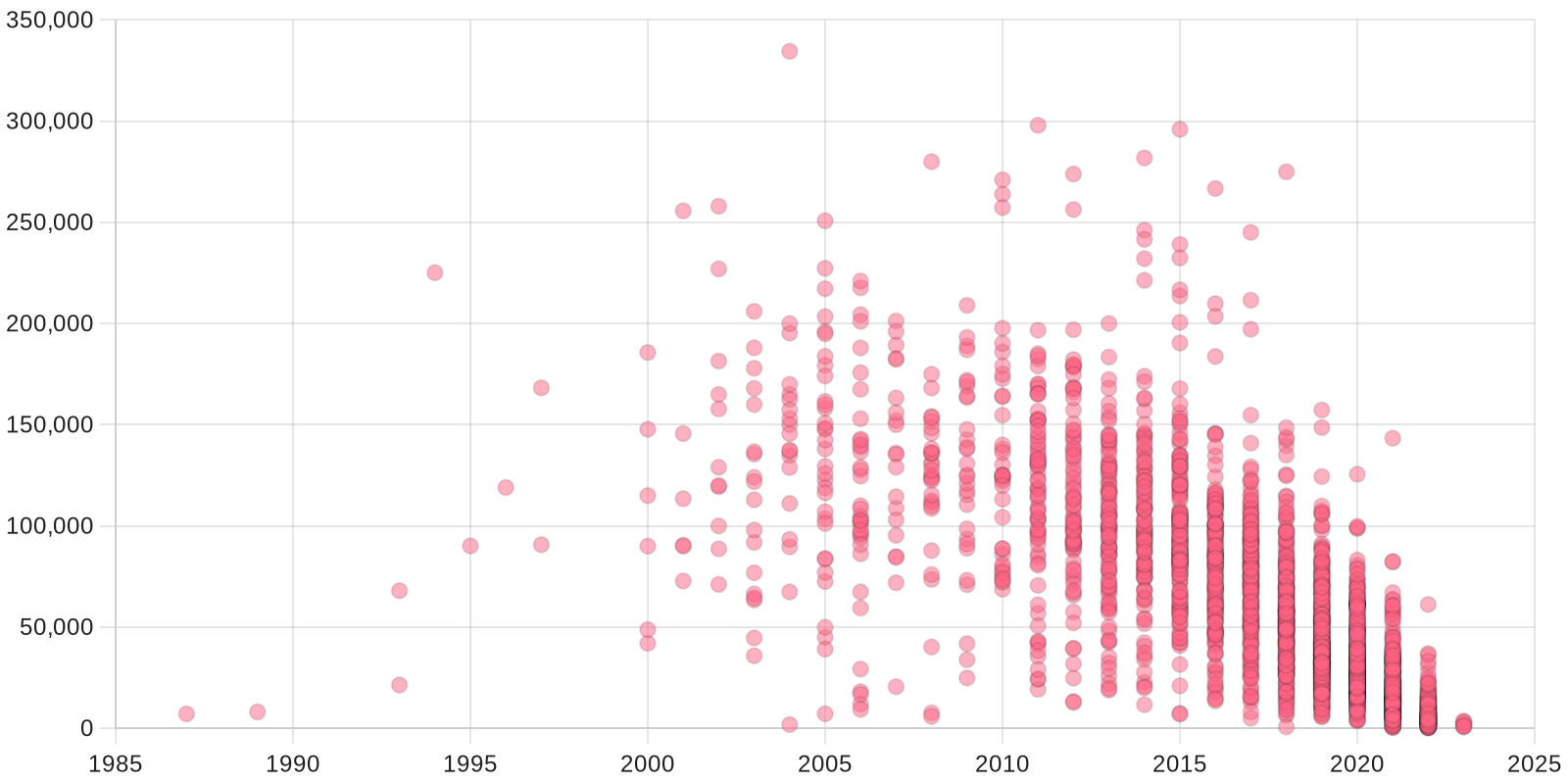 Most Active Dealers
Based on number of vehicles sold
| | |
| --- | --- |
| 1 | Morgan Auto Group: New and Used Vehicles in Florida |
| 2 | CarMax - Tampa |
| 3 | CarMax - Clearwater |
| 4 | Toyota of Tampa Bay |
| 5 | Jerry Ulm Chrysler, Dodge, Jeep, Ram Tampa |
| 6 | Wesley Chapel Toyota |
| 7 | Elder Ford of Tampa |
| 8 | Hyundai of New Port Richey Certified Used Cars |
| 9 | Courtesy Toyota of Brandon |
| 10 | Mercedes-Benz of Tampa |
| 11 | AutoNation Toyota Pinellas Park |
| 12 | Ferman Mazda - Brandon |
| 13 | Evo Motors |
| 14 | Maher Chevrolet |
| 15 | Westshore Honda |
| 16 | Wesley Chapel Honda |
| 17 | Lexus of Wesley Chapel |
| 18 | Rivard Buick GMC |
| 19 | Ferman Chevrolet of Tampa |
| 20 | Lokey Kia |
| 21 | Morgan Import Motorcars |
| 22 | Wesley Chapel Nissan |
| 23 | Courtesy Kia of Brandon |
| 24 | Stingray Chevrolet |
| 25 | MINI of Wesley Chapel |
Most Active Independent Dealers
Based on number of vehicles sold by independent auto dealers
| | |
| --- | --- |
| 1 | Evo Motors |
| 2 | Discovery Auto Center |
| 3 | Consumer Auto Credit |
| 4 | Car Credit Inc |
| 5 | CarHeroes |
| 6 | FIVE STAR AUTO SALES OF TAMPA |
| 7 | LEVEL UP AUTO SALES |
| 8 | iMotorsports St. Pete |
| 9 | ABC Autos, Inc. |
| 10 | Cars Konnect Inc. |
| 11 | Unique Motors of Tampa |
| 12 | Price Wise Auto Sales |
| 13 | Your Way to the Driveway |
| 14 | Fitzgerald's Used Car Outlet Center Clearwater |
| 15 | Tampa Trucks |
| 16 | Carisma Auto Group |
| 17 | Coast Auto Store |
| 18 | Bobby Js Auto Sales Inc |
| 19 | DONNY MILLS AUTO SALES |
| 20 | Florida Auto Exchange |
Internet Search Trends
Interesting internet search trends from people in Tampa
| | |
| --- | --- |
| Pontiac Firebird | Up 30% |
| Used 4-Runner | Up 27% |
| Ram 1500 | Up 26% |
| Silverado | Down 47% |
| Honda HR V | Down 46% |