Using J.D. Power Values (formerly NADA) With Carbly VIN Scanner
3/23/2021: NADA Official Used Car Guide® has been renamed to J.D. Power Values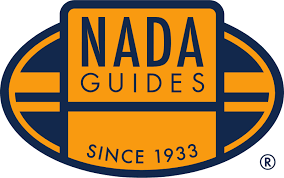 Comprising wholesale, trade-in, loan and retail data, J.D. Power Values (formerly NADA) offer insight on all aspects of the market. It is also the standard for lenders to reference when underwriting loans. Because of the wide breadth of data offered and the finance application, J.D. Power is extremely popular among car dealers. By combining data for all use cases in one guide book it offers great value.
The data that you are already familiar with, trust and rely on is presented on the card in an user-friendly format.
The model and trim are displayed at the top. Immediately following that, you will see the average miles for this specific vehicle.
The next three numbers are loan value, retail value and the original MSRP of the vehicle in question.
Trade-in values and auction values are featured beneath. They are displayed in ascending condition order. The condition that you selected when inputting the VIN will be highlighted.
At the botttom of the card you can click on the blue text to adjust options on the vehicle for a precise value based on the specific trim you have.
This Presents an option list allowing you to select additional options as well as check ones that might be absent. Once you're sure you have the options correct, the numbers on the card update and accurately reflect the value of the vehicle that you are appraising.
Whether you're in the lane buying, negotaiting a trade-in, setting a retail price or sending values to a lender for underwriting, having the most precise number possible is crucial so this feature is invaluable.
And although we all like to consider ourselves experts in our field, it's unlikely we know every little detail and option list for every vehicle in the market so this is a great way to make sure that you know which options to look for when buying, negotiating a trade-in or setting your retail price.
J.D. Power Values are available on Carbly for $59 per month. This price also includes free integration of your vehicle history account. (Tip: to maximize value on a budget, add Live Local Market for only $29 more.)
Pair the J.D. Power data you trust and rely on with the user friendly Carbly VIN scanner. Start your 14 day free trial today.
More About J.D. Power Values
First published in 1933, J.D. Power certainly has a long history of providing vehicle pricing data. Growing its subscriber base over the next 82 years, the guides business was sold to J.D. Power in 2017.