Orlando Region Used Car Market Report
October 2022
Used car sales trends for Orlando and surrounding communities
October market trends based on used inventory from 456 dealers in the Orlando region.
50.8 days

35.4 days

Average vehicles sold per dealer
Up 9.7%

Average national wholesale values by month
Wholesale values continued to decline in October. Average wholesale values are down 5% from September and down 10% from the yearly high in June.
Retail Used Inventory Levels

Highest Demand Vehicles in Orlando for October
Based on number of vehicles sold and average days on lot
| | | |
| --- | --- | --- |
| 1 | TOYOTA COROLLA | Score: 124 |
| 2 | TOYOTA CAMRY | Score: 104 |
| 3 | TOYOTA RAV4 | Score: 104 |
| 4 | HONDA CIVIC | Score: 94 |
| 5 | TOYOTA HIGHLANDER | Score: 92 |
| 6 | TOYOTA TACOMA | Score: 91 |
| 7 | FORD F-150 | Score: 91 |
| 8 | HONDA ACCORD | Score: 90 |
| 9 | NISSAN ROGUE | Score: 89 |
| 10 | KIA SOUL | Score: 88 |
| 11 | MAZDA CX-5 | Score: 87 |
| 12 | NISSAN ALTIMA | Score: 87 |
| 13 | HYUNDAI ELANTRA | Score: 87 |
| 14 | CHEVROLET SILVERADO | Score: 86 |
| 15 | CHEVROLET EQUINOX | Score: 86 |
| 16 | KIA OPTIMA | Score: 85 |
| 17 | NISSAN SENTRA | Score: 84 |
| 18 | KIA SPORTAGE | Score: 84 |
| 19 | HYUNDAI TUCSON | Score: 83 |
| 20 | CHEVROLET MALIBU | Score: 83 |
| 21 | RAM 1500 | Score: 82 |
| 22 | KIA SORENTO | Score: 82 |
| 23 | HYUNDAI SONATA | Score: 82 |
| 24 | TOYOTA TUNDRA | Score: 81 |
| 25 | FORD MUSTANG | Score: 80 |
Lowest Days on Lot Vehicles
Based on average days on lot for October
| | | |
| --- | --- | --- |
| 1 | TOYOTA RAV4 | 20.2 days |
| 2 | TOYOTA HIGHLANDER | 23.0 days |
| 3 | TOYOTA COROLLA | 25.2 days |
| 4 | KIA SOUL | 26.5 days |
| 5 | HONDA CIVIC | 26.6 days |
| 6 | TOYOTA TACOMA | 26.8 days |
| 7 | KIA OPTIMA | 27.5 days |
| 8 | KIA SPORTAGE | 27.6 days |
| 9 | HONDA ACCORD | 27.7 days |
| 10 | NISSAN ROGUE | 28.0 days |
| 11 | TOYOTA CAMRY | 28.0 days |
| 12 | MAZDA CX-5 | 28.1 days |
| 13 | CHEVROLET MALIBU | 29.3 days |
| 14 | CHEVROLET EQUINOX | 29.7 days |
| 15 | HYUNDAI TUCSON | 30.3 days |
| 16 | NISSAN SENTRA | 30.7 days |
| 17 | TOYOTA TUNDRA | 31.1 days |
| 18 | KIA SORENTO | 31.5 days |
| 19 | FORD MUSTANG | 32.4 days |
| 20 | NISSAN ALTIMA | 33.1 days |
| 21 | KIA FORTE | 33.3 days |
| 22 | JEEP WRANGLER UNLIMITED | 33.7 days |
| 23 | HYUNDAI ELANTRA | 33.8 days |
| 24 | HONDA CR-V | 34.7 days |
| 25 | HYUNDAI SONATA | 35.6 days |
Days on Lot Trend in the Orlando Region

October Used Inventory by Year and Mileage
All vehicles for sale in Orlando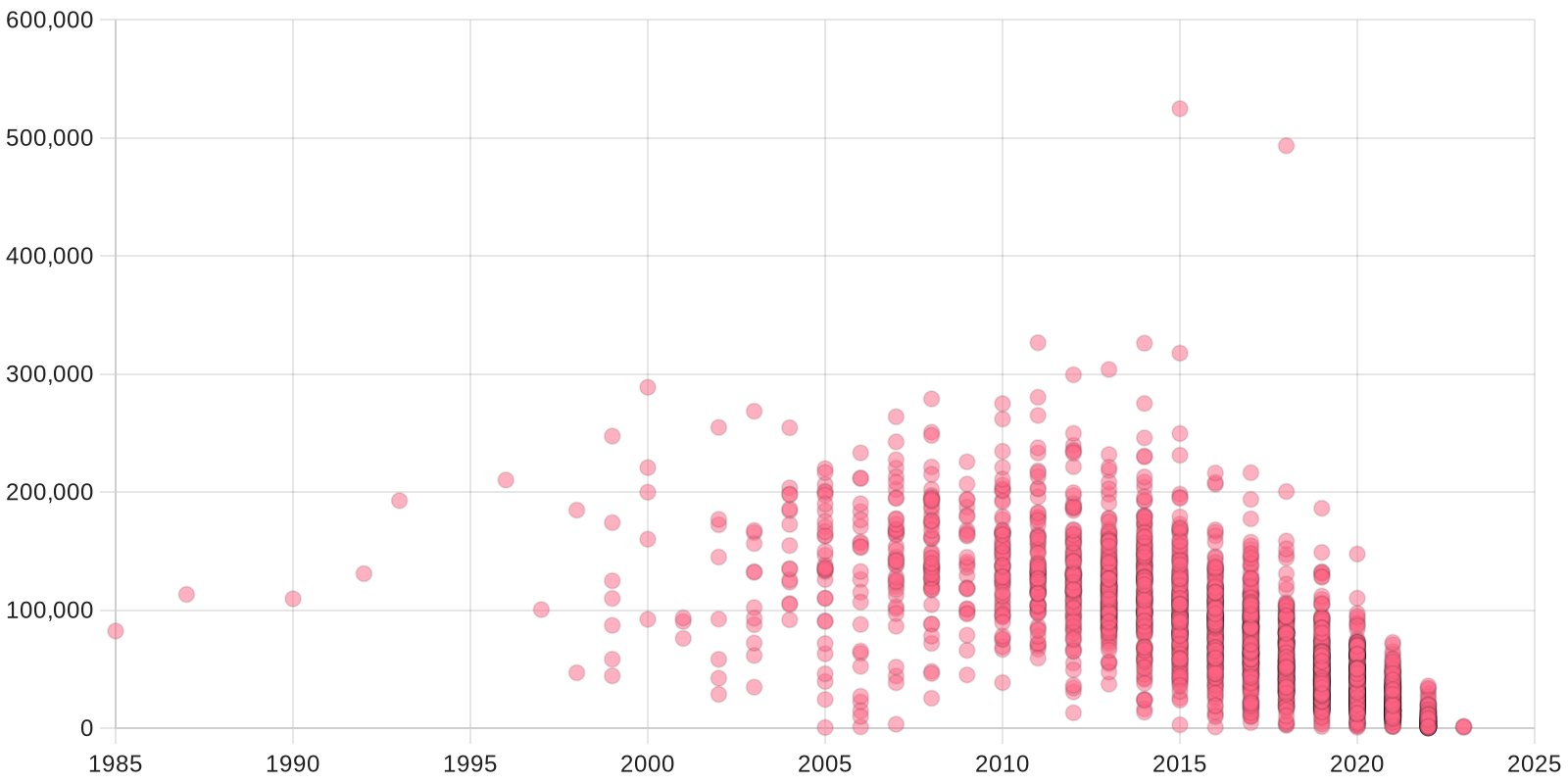 Most Active Dealers
Based on number of vehicles sold
| | |
| --- | --- |
| 1 | CarMax - Orlando |
| 2 | Central Florida Toyota |
| 3 | CarMax - Sanford |
| 4 | Seminole Toyota |
| 5 | AutoNation Toyota Winter Park |
| 6 | Greenway Ford |
| 7 | Motor Car Concepts II |
| 8 | Pedro @ Starling Chevrolet |
| 9 | Driver's Mart - Winter Park |
| 10 | Lexus of Winter Park |
| 11 | Toyota of Orlando |
| 12 | Universal Hyundai |
| 13 | Central Florida Chrysler Dodge Jeep Ram |
| 14 | Starling Chevrolet |
| 15 | City Kia of Greater Orlando |
| 16 | Sport Mazda |
| 17 | Greenway Kia West |
| 18 | Greenway Dodge |
| 19 | Fields BMW Winter Park |
| 20 | Mercedes-Benz of South Orlando |
| 21 | Greenway Kia North |
| 22 | DriveTime - KISSIMMEE |
| 23 | Greenway Kia East |
| 24 | Mint Auto Sales |
| 25 | Land Rover Orlando |
Most Active Independent Dealers
Based on number of vehicles sold by independent auto dealers
| | |
| --- | --- |
| 1 | Motor Car Concepts II |
| 2 | Driver's Mart - Winter Park |
| 3 | Mint Auto Sales |
| 4 | iRide Used Cars |
| 5 | World Auto |
| 6 | The Chariot Fund |
| 7 | American Dealer |
| 8 | Gibson Truck World |
| 9 | Show Car Motors |
| 10 | Marvin Motors |
| 11 | Car Experts LLC |
| 12 | Southern Trust Auto Group |
| 13 | MY AUTOMOVIL CORP |
| 14 | Central FL Motors LLC |
| 15 | Tropical Auto Outlet |
| 16 | PRO AUTO SALES & SERVICE OF ORLANDO INC |
| 17 | American Financial |
| 18 | Direct Auto Sales LLC |
| 19 | LIVE CAR |
| 20 | Jimmy Motor Car Company Inc |
Internet Search Trends
Interesting internet search trends from people in Orlando
| | |
| --- | --- |
| Used Chevy Silverado | Up 100% |
| Ford Pickup | Up 27% |
| Used Toyota Highlander | Up 27% |
| Honda HR V | Down 46% |