There are a handful of vehicle appraisal tools for mobile devices. Autoniq was one of the tools that people turned to after Vin Viper ceased operations a few years ago. At first glance, Carbly and Autoniq offer similar services for auto dealers. Let's take a look at what sets them apart.
Ease-of-Use
A lot of tools developed for mobile devices lack sophistication and can be complicated to get to grips with. Nobody likes that. The screenshots above tell a pretty compelling story. Carbly delivers a truly, modern experience with an emphasis on clean, user-friendly design. All of this means that Carbly makes it much easier and quicker to make decisions about a vehicle's value or price and intuitively guides you towards making the right decisions.
Carbly's Summary section at the top is especially useful. It provides simple, recommended price ranges but it also highlights positive and negative things about the car or truck.
The key to appraising and pricing well hinges on being completely informed about your market. You can always comb the internet to see what your competitors are listing their vehicles for, but that won't reflect the true selling price. Carbly eliminates the guesswork and provides actual historical sale transaction data for like vehicles so you know exactly what sale price to aim for and the profit you can expect.
In a constantly evolving market, live asking prices in your immediate area are critical to any decisions made regarding the value of a vehicle. As an Autoniq user, you'll be left wanting as there isn't much coverage for local retail markets. Carbly on the other hand, has a dedicated local retail market card. It offers an all encompassing picture of your local market, featuring the number of like vehicles in your area, their average price and mileage, median current days on lot and a suggested mileage specific retail price. And just to make sure that there aren't any unanswered questions, we provide all of that data for both CPO and non-CPO vehicles.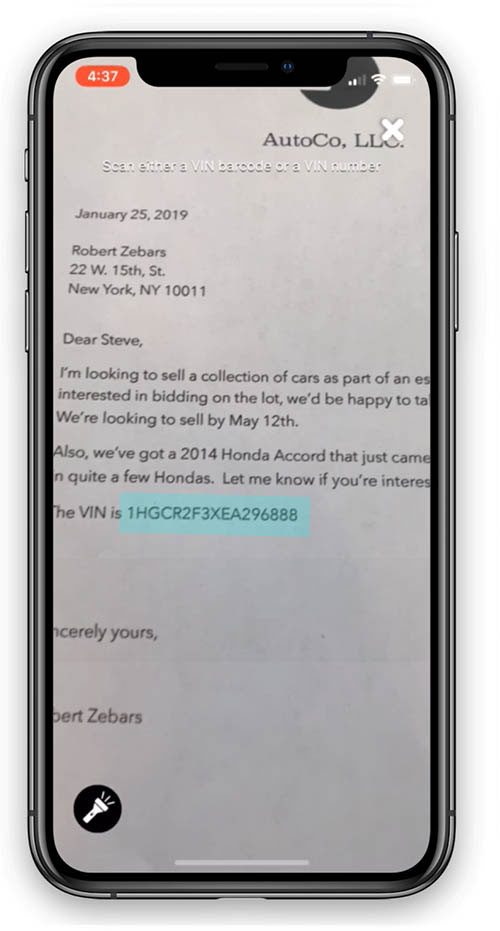 VIN Scanner
Autoniq scans VIN barcodes. That's old news. Carbly does that too. We know it's still a pain to locate and scan barcodes so we gave our product the ability to read VIN number text. This means that you can just point your device at another screen, a piece of paper, a VIN plate and even handwriting (if neat enough) and Carbly will automatically read the VIN for you without any fuss.
If you do happen to be one of the rare individuals that likes to type in VINs, we've thought of you too. Carbly has a quick and easy VIN optimised keyboard too. Once entered, we also made the VIN actionable so that you can easily copy/paste, text or email it just by tapping on it. These things are unique to our product and save massive amounts of time and hassle.
Features Comparison of Carbly vs. Autoniq
| | Autoniq | Carbly |
| --- | --- | --- |
| Year, Make, Model Vehicle Entry without VIN | ✓ | ✓ |
| Optimized Keyboard For VIN Entry | ✓ | ✓ |
| VIN Barcode Scanner | ✓ | ✓ |
| Historical Retail Transaction Data | ✓ | ✓ |
| VIN Text Scanner | | ✓ |
| Comprehensive Local Market Pricing Tool | | ✓ |
| Modern, User-Friendly Design | | ✓ |
| Summary with Appraisal Assistant | | ✓ |
| Free History Integration without Minimum Spend | | ✓ |
| Wholesale & Retail Price Trend Graph | | ✓ |
| Local Retail Price Distribution Graph | | ✓ |
| Multi-Year, All Trim, Retail Price Comparison Table | | ✓ |
| Summary with Appraisal Assistant, Live Local Market Pricing, Black Book®, Manheim Market Report, NADA Official Used Car Guide®, J.D. Power PIN and FREE vehicle history integration | $295 | $199 |
| Live Local Market Pricing, Manheim Market Report, NADA Official Used Car Guide® and FREE vehicle history integration | $130 | $69 |
Carbly includes a 14 day free trial, so you can see these benefits for yourself with zero risk.
Try Carbly for Free
Combined Data Sources Paint a More Accurate Picture
Carbly's philosophy is that using combined data sources is the only way to appraise accurately. For this reason we do not offer individual book subscriptions. Doing so actually puts a user at a disadvantage because they lack a comprehensive picture of the market. This is evident when taking a look at our Guide to Appraising Vehicles. Whether you chose the Pro or Basic subscription, we have worked hard to make sure that both benefit from combined data sources because we want to actually provide a valuable tool to our customers. Autoniq seem less concerned and let you to pay for a single book even though it might not prove to be that useful. Pay for a tool rather than mere data.
Vehicle History Integration
It takes a brave individual to buy and sell without knowing the history of a vehicle these days. Autoniq will let you integrate your vehicle history account for a fee of $55 per month or, they will integrate for free if you buy at least 2 pricing books per month. However you slice it, they are forcing you to spend over $100 per month.
We don't think that you should have to pay twice for vehicle history integration. Whether you subscribe to our Pro or Basic service, integrating your vehicle history account is always FREE. As a Basic subscriber then, you can benefit from insightful market data and vehicle history integration for a mere $69 per month. Autoniq just doesn't offer that sort of value.
Pricing Comparison
Good tools don't have to be expensive and that is abundantly apparent when considering Carbly's pricing. For $199 per month our Pro subscription comprises local retail market data, Summary section with speed appraisal assistant, Black Book®, Manheim Market Report, NADA Official Used Car Guide®, J.D. Power PIN and FREE vehicle history integration. A similar selection of books from Autoniq costs $295 per month. Carbly Pro users are saving $1,152 per year and getting a better tool.
The same amazing value exists for Carbly Basic users too. At an astonishingly low price of $69 per month, Carbly Basic provides the same local retail market data, Manheim Market Report, NADA Official Used Car Guide® and FREE vehicle history integration. It simply isn't possible to get the same value with Autoniq. To get the same books and vehicle history integration, you have to spend at least $130 per month. Carbly Basic users are saving $732 per year.
With plans starting at $69 per month, Carbly gives you better data at a better price.
Learn more about what Carbly can do for your business, or start your free trial today.